Exclusive
Nancy Grace 'Deeply Saddened' By The Wrestling Ban On Her Show: 'Steroid Use Is Rampant In WWE & Pro Sports … I Invite Diamond Dallas Page To Ambush Me Anytime!'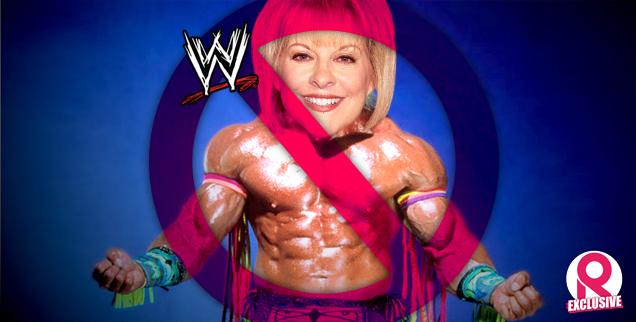 Nancy Grace caused a major stir in the WWE community when she had Diamond Dallas Page on to talk about the death of the famed wrestler, Ultimate Warrior, when she insinuated steroids likely played a role.
Since the early April appearance, the WWE has placed an unofficial ban on Grace's HLN show — and the TV host exclusively tells RadarOnline.com she's "deeply saddened" by the ban but welcomes anyone, including Page, on the show to tag team her in a drug battle.
Article continues below advertisement
"I'm deeply, deeply sadden by the WWE unofficial ban from my show. I am a huge, huge wrestling fan," Grace, 54, told RadarOnline.com.
"Steroid use is rampant in WWE and professional sports. From the Tour de France to baseball to the NFL. So I invite whoever is brave enough and man enough to come on my show and tag team me. The truth will come out. Before they leave I want to see a spinning toe hold. They can even put me in the atomic elbow and we'll see who comes out on top."
Article continues below advertisement
"I invite Diamond Dallas Page and any of his WWE friends to come on my show. It was a great pleasure to meet my longtime hero Diamond Dallas Page. He is even more handsome in person and was a charming gentleman in every way, even inviting me to do yoga with him after the show. He can feel free to ambush me anytime."
As RadarOnline.com exclusively reported last week, Page said he felt ambushed by Grace while appearing on her show.
Fallout from the show was so intense, that a related petition on change.org to CNN — parent network of HLN — was started calling for Grace's job.
But Grace isn't worried, adding, "I have a son and a daughter who play sports and I hope they're not tempted to ever use steroids."