Exclusive
'Bombshell Tonight!' Nancy Grace Signs New HLN Contract, Warns She'll Be 'Giving Evil Doers & Bad Guys Hell For The Next Three Years'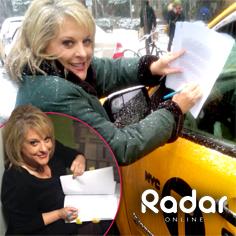 Nancy Grace has had many detractors wanting her off the air but she told RadarOnline.com exclusively that she plans to be just as vicious now that she's inked her new contract with HLN, warning criminals: "I got my eyes on you."
The acid-tongued host will retain her stronghold on the network with a new deal she signed on Tuesday in New York City, and she said that she is going to laser in on the stories that she cares about most – crimes and justice for victims.
Article continues below advertisement
"Bombshell tonight! I will be giving evil doers and bad guys h-e-l-l for the next three years," Grace told Radar, sharing pictures of her putting her signature on the contract that goes through 2017.
Famous for relentless reporting on "Tot Mom" Casey Anthony, visiting the jail where convicted murdererJodi Arias is being held, and running non-stop coverage of Trayvon Martin killer George Zimmerman's trial, Grace warned Radar that she has not lost her edge and is going to be fighting for those that can't help themselves.
"So bad guys, deadbeat dads, evil stepmoms, all politicians and the NFL in general had better watch out. I'm still on your back!"
Grace has been closely following the Ethan Couch case, where a judge allowed the Texas teen to avoid jail time after drunkenly killing four people and gravely injuring two, adding: "P.S., that includes lousy judges who need to be removed from the bench!"