Exclusive
Lindsay Lohan's Diva Antics & Unprofessional Behavior Are Making It Hard To Secure Financing And Insurance For Her Upcoming Movie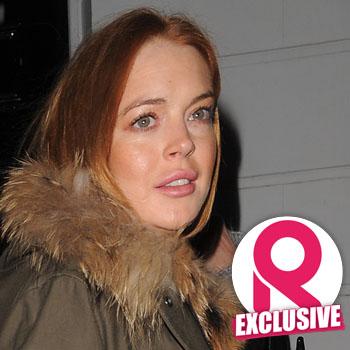 Lindsay Lohan's upcoming movie Inconceivable is having trouble securing financing and insurance for the troubled starlet because of her unprofessional behavior and diva antics, RadarOnline.com is exclusively reporting.
"There is currently no date for filming to begin on Lindsay's Inconceivable....producers are having trouble getting money for the project. There is always the problem of insuring Lindsay for movies. Her diva behavior, not showing up on time, or at times, Lindsay doesn't even arrive at all. It's very likely this movie will never get made," an insider told Radar.
Article continues below advertisement
"The only reason Inconceivable was pitched at Sundance was an attempt to garner interest and create buzz about the project. It didn't. Lindsay is currently in Europe attempting raise money for the project, but isn't having any luck."
The rehab veteran had hoped doing a reality show for the OWN network would have revived her fledgling career. Instead it backfired and was a huge flop.
When Lindsay premiered on March 9 it opened with a decent 693,184 viewers, but quickly dropped a staggering 24% by the second episode garnering only 527,000 viewers, and down another 25% for the finale.
So the show — which splashed out a $2 million payday to Lohan — landed at No. 59 when it comes to the top 66 ad-sustained programs that air on primetime and cable networks, according to Nielsen.
Lohan, 27, claimed she missed two weeks of production on the show because she was struggling through a miscarriage, but pals of the Mean Girls actress' pals fear it was just a fake storyline to "garner sympathy and explain away her unprofessional behavior."
Article continues below advertisement
"Lindsay was never pregnant during filming the reality show for OWN, or in the months after. Lindsay knew she was being perceived as a total slacker, not showing up on time for photo shoots, call times and refusing to shoot. So this is what Lindsay does. She lies! Her family and friends had no clue about her 'pregnancy' and subsequent miscarriage. Lindsay is once again her own worst enemy," a source previously told us.
Revealed a second Lohan insider: "Lindsay has continued to smoke through-out this entire series and has admitted to relapsing and drinking alcohol. Don't forget there have been multiple media reports that she fell off the wagon months ago. Quite simply, Lindsay never acted like someone who was pregnant. It's just sad that anything that comes out of her mouth is considered to be a lie."
"Lindsay needs to stop going out, partying all night, and just being unprofessional," a source told Radar. "
She says all of the right things, but doesn't back it up with her actions."