Breaking Nudes! Hollywood Moms Kristen Bell and Jenna Dewan Tatum Bare All In Steamy Photoshoot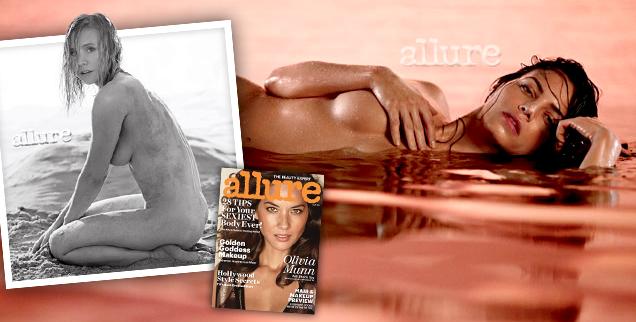 Ever wonder what Kristen Bell and Jenna Dewan Tatum look like naked? Wonder no more: The actresses, both 33, stripped down to their birthday suits for Allure's annual "Nudes" feature in May's "Look Better Naked" issue.
"I talk a big game about being comfortable no matter my size," Bell, featured in a black and white beach scene, told the magazine, on stands April 29. "I wanted to put my money where my mouth was."
Article continues below advertisement
The actress, who welcomed daughter Lincoln with husband Dax Shepard, 39, in March 2013, admits she still has her body hang-ups. "My belly skin has made me self-conscious, and it's only gotten worse since I've had a baby," she adds. "I have definitely and happily used a body double."
Dewan Tatum, who gave birth to daughter Everly last June, is a little more at ease au natural. "You sort of lose all modesty as a dancer," the Step Up star, married to actor Channing Tatum, 33, explains. "I also think it's just the way I came out. I've always been free-spirited, and it was hard to keep clothes on me as a kid."
Actresses Minnie Driver, 44 (mother of 5-year-old Henry) and Nia Long, 43 (mom to Massai, 13, and Kez Sunday, 2) also pose nude for the sexy feature.
Were Bell and Dewan Tatum brave to bare all? Sound off in the comments!