Exclusive
Sweet Victory: Porsha's Ex-Husband Kordell Stewart Wins Again -- Settles Nasty Legal Battle With Baby Mama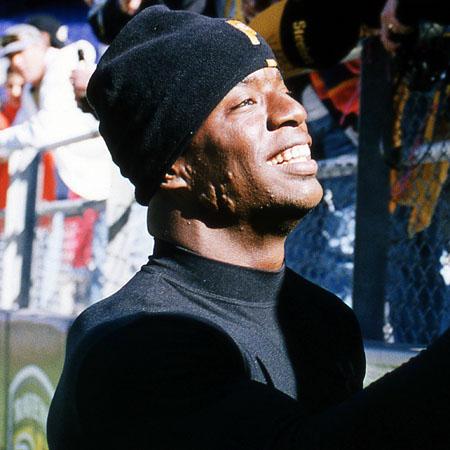 Article continues below advertisement
On January 28, Stewart and Richardson reached an agreement to share joint custody of their son Syre, with the former NFL star getting primary physical custody.
In explosive 2011 court papers filed in Georgia, Stewart fought for permanent custody of his son, after finding out Syre's mother, Richardson, was moving to Los Angeles with the boy because of a new job.
But as the legal documents obtained exclusively by RadarOnline.com show, Richardson cried foul, claiming Stewart, 41, barely ever saw his son!
She told the court "after filing the lawsuit, Plaintiff/Father went almost nine days without calling his son or seeking to text his son."
Richardson added that Stewart "has not spent a consecutive five day period with his son ever except during this litigation" and "has never taken his son on any vacation."
And Stewart's baby mama also took a swipe at Porsha Williams in the court papers, saying while he shared no vacations with Syre, he "has flown with his new wife/former fiancee to California, Las Vegas, Miami, Oregon, New York multiple times during just 2010 and 2011."
Article continues below advertisement
In 2013, however, the RHOA stars split up and they've had a nasty media and Bravo war ever since, with Williams implying Stewart was secretly gay and Stewart saying she was lying about his sexuality, playing the victim, and had been a neglectful stepmom to Syre!
Now, Stewart and Richardson have come to a custody agreement in which no child support will be paid by either party, although he makes $16,942 a month while Richardson earns about $6,000 per month.
Legal filings show the court decided, "Mother and the Child will have to right to communicate with each other over the telephone at Father's residence at any reasonable time."
Also, the court decreed that "there should be no illegal drugs or non-prescribed narcotics in the presence of or around the child whenever either parent is caring for the child."
And in a ruling that surely pleased the former football player, the judge noted, "The Father shall be the final decision maker should the parties disagree" about issues affecting Syre's welfare.