Exclusive
Stay Away Kim & Your Mother Too! Kanye West Begs But Hollywood Wants Nothing To Do With His Baby Mama And Kris Jenner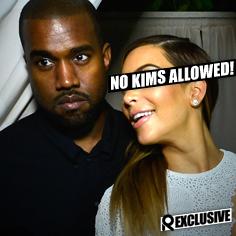 Kanye West has openly gushed about how in love he is with his baby mama Kim Kardashian but RadarOnline.com has learned that despite his A-list status, Hollywood is still turning its back on accepting the reality star into the elite parties, events and clubs that they're eager to join.
"Kanye is begging people to invite Kim to events or meetings with the cream of the crop in Hollywood, but so many people are refusing," a source told RadarOnline.com.
Article continues below advertisement
"He's a serious star that people really respect, especially as a business man, but they want nothing to do with Kim."
As RadarOnline.com previously reported, Kardashian, 33, was desperate to go the Vanity Fair Oscar party, but was not invited to the swanky event.
"Kim is just not welcome at the same places Kanye is," the source told RadarOnline.com.
"Another problem is that Kanye is pushing not only for people to accept Kim but her mother Kris Jenner too! That is definitely NOT going to happen. People want Kris around even less than they want Kim."
Celebs Who Have Slammed The Kardashians
However, the source said not to underestimate the Yeezus singer, 36, who appeared on the recent cover of Anna Wintour's VOGUE with his fiancée.
"Kanye usually knows how to get what he wants. Whether it is going directly to a studio head or the person in charge of an event, he has no fear.
"People are worried he's going to start making big personal asks and calling in favors for Kim and they're dreading having to give into him. Kanye is powerful, even if people don't want to deal with Kim or Kris."