Exclusive
Justin Bieber Ordered To Answer 10 Pages Of Questions Issued By Judge: Give Me ALL Info On EVERYONE Who's Traveled With You In The Last 2 Years!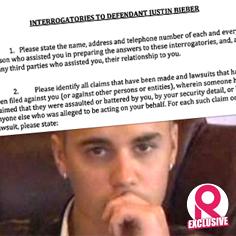 Article continues below advertisement
According to an insider, attorneys were displeased with how Bieber's deposition went (shocking and rude, were words used to describe it!) so they've demanded he take the time to properly answer all the questions issued on paper.
One of the questions asked on the paperwork titled "Interrogatories To Defendant Justin Bieber" that will require the most detailed answer, is:
"Please state the name, address and telephone number of all persons who have traveled with you for every trip you have taken during the past two years. For each said person, please specify the trip or trips said person traveled with you on."
Article continues below advertisement
"Have you, or has anyone acting on your behalf, ever asked or directed anyone, including but not limited to security personnel, to prevent someone from taking your photograph, or to obtain the camera, film and/or digital film card from someone who was taking, or was attempting to take your photograph?" one of the questions asks.
"If your answer to this question is affirmative, please state, as to each time this occurred."
Bieber, 20, won't be able to get away with answering, "I don't recall," like he did numerous times during his taped deposition, leaving all parties frustrated.
For the latest with Bieber's ongoing lawsuit, stay with Radar!