Veep Peepshow! Julia Louis-Dreyfus Strips Down For Magazine Cover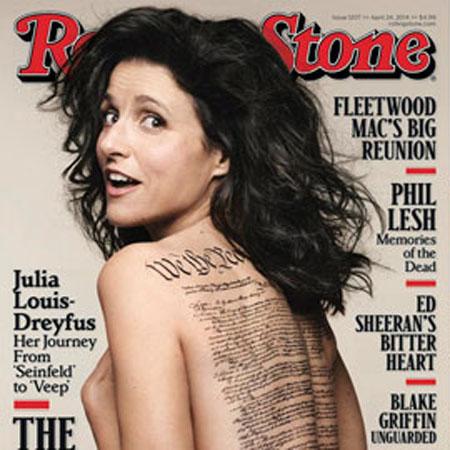 What would the President think? Veep star Julia Louis-Dreyfus, 53, looks sexier than ever in a topless pose for the new issue of Rolling Stone.
"I think I'm about to get some more Twitter followers..." the Seinfeld alum tweeted before proudly posting her sultry cover shot on April 8.
The fictional Vice President, who once posed at the White House desk of real U.S. VP Joe Biden, also sports a (hopefully temporary?) United States Constitution tattoo on her bare back in the stunning photo.
Article continues below advertisement
But she's not normally so willing to strip: Louis-Dreyfus is blaming it on the al-alcohol. "In my defense, I was in a drunken stupor," she added.
In the magazine's pages, the veteran comedienne and four-time Emmy winner insists she has no problem keeping up in a male-dominated scene. "There is sexism – I'm not denying its existence," she says. "But I'm saying that I will deny its effort against me. I just pay it no nevermind and say, 'Get out of my way.'"
The issue hits newsstands on Friday, April 11.
Veep airs on HBO Sundays at 10 PM.