'Veep' Star Julia Louis Dreyfuss Takes Over Real VP Joe Biden's Office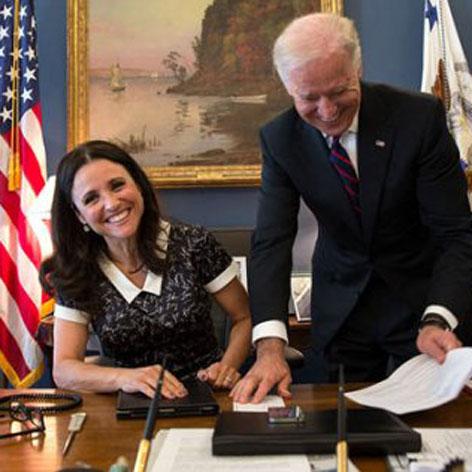 In advance of the second season premiere of her hit HBO series, Veep, Julia Louis-Dreyfuss had lunch on Friday with one of her biggest fans, the country's real Vice President, Joe Biden.
And the real VP, who has an audio series on the official White House site called Being Biden, had a blast with it.
He let the actress sit at his desk and posed for a pic as if he were her secretary.
"He thought he'd just ask my advice on various briefs he had to deal with and I was happy to give him my advice, which he paid no attention to whatsover," Julia says on Being Biden (which has the makings of a reality show in itself!).
Article continues below advertisement
The pair actually did have lunch and talked about everything from her show to the hottest issues to politics.
Veep returns to HBO Sunday at 10 pm.