Exclusive
Not So Fast! Joe Giudice Still Owes Ex-Business Partner $260,000 Despite Sweetheart Bankruptcy Ruling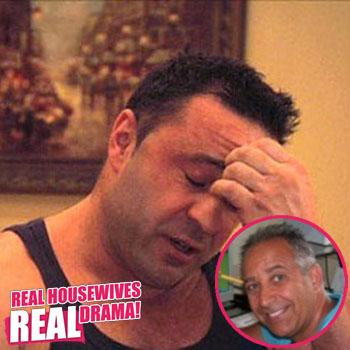 Teresa and Joe Giudice may only be forced to cough up $7,500 of the shocking $13 million debt in their April 8 bankruptcy ruling — but they still have one hefty bill to pay, RadarOnline.com has learned.
In 2011, a New Jersey judge ruled that his court order for the reality star dad to pay $260,000 to his former business partner, Joe Mastropole, would be exempt from the eventual bankruptcy discharge. (Juicy Joe, 42, was found guilty of forging Mastropole's signature on a mortgage document for his New Jersey home in order to take out another loan and pocket $1 million.)
Article continues below advertisement
READ: The Jaw-Dropping List Of The Giudices' Debts
"I have a judgment against them," Mastropole exclusively tells RadarOnline.com. And he believes he'll eventually be repaid by the hopelessly broke Real Housewives of New Jersey couple. "I hope someday to collect some of my money."
Unfortunately for Mastropole, a $420,902.60 real estate debt Guidice also owed his former friend was deemed null and void by the trustee's final report in the bankruptcy case.