Exclusive
Hollywood Murder-For-Hire Scandal: First Photos Of Alleged 'Hitman' Chris Geile With Celeb Beautician To The Stars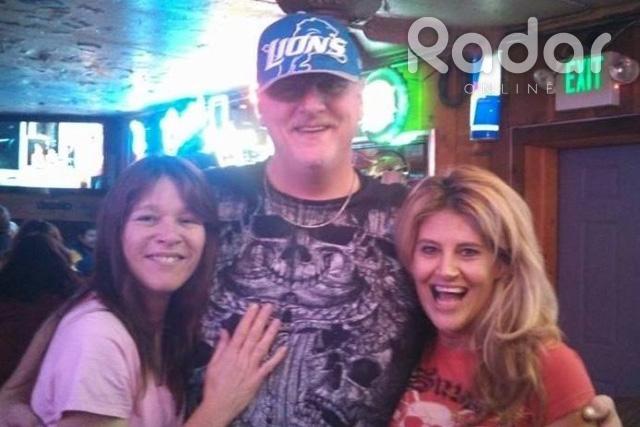 It's an alleged murder-for-hire plot that rocked Hollywood, and only RadarOnline.com has exclusively obtained the first photos of ex-NFL star, Chris Geile, who was purportedly hired as the 'hitman' by beautician to the stars, Dawn DaLuise.
DaLuise, 55, boasted celebrity clients such a Jennifer Aniston, Nicki Minaj, Sarah Michelle Gellar, Alicia Silverstone and Christina Ricci — but she was arrested and charged with one count of solicitation of murder in March when detectives say she hired Geile to take out a competitor, Gabriel Suarez.
Article continues below advertisement
However, Geile has not been arrested or charged and has denied any involvement.
In the first few photographs obtained by RadarOnline.com, DaLuise is pictured in a red shirt and the photos were taken during a meeting she had with Geile in Big Bear, Calif. on November 11, 2013.
"This was their first meeting, and they seemed to hit it off," a source told RadarOnline.com.
"They exchanged information at that time to keep in touch."
DaLuise was then photographed again with Geile — and her daughter Darian! -- at Murray's Saloon in Big Bear, Calif. on Jan. 5, 2014, just a few months before she was arrested.
The man on DaLuise's hit list, Suarez, had opened a business called Smooth Cheeks in the same West Hollywood, Calif. block as DaLuise's Skin Refinery.
"There was sufficient concern that something could happen that there was a decision to arrest," L.A. County Sheriff's Capt. Mike Parker said in March.
Article continues below advertisement
The texts were with a man named Edward Feinstein, who later turned into an informant for the Los Angeles County Sheriff's Department.
"I found someone who is going to take Gabriel out. His names Chris Geile and he's an ex Detroit Lion quarterback. He's 6'7" and 315 lbs. He's on my FB page," DaLuise wrote on Feb. 6 at 6:08 p.m.
DaLuise is still being held on $1 million bail.