Exclusive
Hilary Duff On The Rebound … With Xenu? Actress Spotted Hanging With Young Hollywood Scientology Crowd & Rocking Scientology Symbols Post-Split From Mike Comrie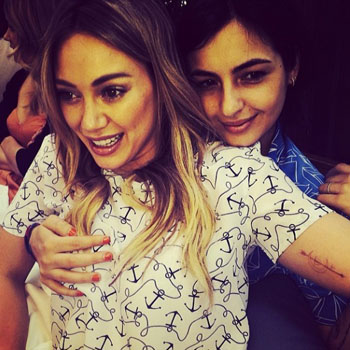 Article continues below advertisement
Masterson's dad, Joe Reaiche, has since left the church, and recently spoke out about his concern for how deeply Masterson is enmeshed in it.
"I paid for my kids to go to private Scientology school but it's a total fraud," he said. "…Recently Alanna gave them $25,000 because they told her they could give her superpowers. That's on top of the normal 50 to 100 grand a year she pays in fees."
Could she be sharing her beliefs with Duff? The actress was spotted rocking a mysterious temporary tattoo during the girls' time together at Coachella — and it included Scientology symbols!
Article continues below advertisement
At the center of the doodle was a small triangle, a symbol of "the utmost importance" in Scientology, according to the church's official website. Known as the "ARC" or "Affinity, Reality and Communication" triangle, it "greatly assists interpersonal relationships," according to Scientology.org, and gives Scientologists "a greater understanding of life itself."
Another important triangle in Scientology is the KRC Triangle, which represents "Knowledge, Responsibility and Control." Finally, the symbol for Dianetics, the church "technology" that helps the mind "overcome the reactive mind and reach the state of Clear," according to the Scientology website. As such, triangles are to be found throughout Scientology literature.
In addition to the triangle, Duff also appeared to be inked up with a tiny rendition of an image similar to the Scientology cross — a cross with tiny diagonal rays between the horizontal and vertical arms. This is the symbol most frequently used to represent the church.
Duff's temporary tat was not visible when she stepped out in L.A. days later.
Could she be dabbling in the church to help her through her divorce and changing career? Duff admitted in recent years to be searching for spiritual connection, saying, "When I was younger, we were very much churchgoers. Now that things have gotten a little bit busier and I have gotten a little bit older, I don't necessarily think that you have to go to church to be a believer. I travel so much and I work so hard, but I have faith in that kind of thing and I pray all the time and I believe in God."
And Masterson isn't the only Scientologist that Duff's been mingling with in recent months. Last June, she attended the Children Mending Hearts event in L.A. hosted by super-Scientologist Kelly Preston.
Ironically, she's also admitted that her "first crush" was on Preston's Scientologist hubby, John Travolta.
Duff's rep did not respond to Radar's request for comment.