Exclusive
Gucci Mane Negotiating With Federal Government To Reduce Possible 20 Year Jail Time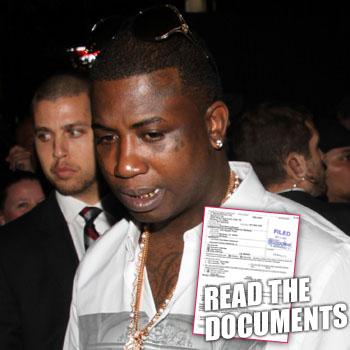 Rapper Gucci Mane is on the verge of catching a MAJOR break that could see him escape a lengthy jail sentence stemming from two September incidents in which he threatened police with a gun, RadarOnline.com has exclusively learned.
In new court documents obtained exclusively by Radar, Gucci Mane, real name Radric Davis, and the lawyers for the U.S. government have asked the judge to push the trial – currently set for April 15 -- to a later date as they work out a plea deal.
Article continues below advertisement
"All parties anticipate resolution without the need of a trial," the documents said.
READ: Gucci Mane Legal Documents
Last December, Davis was charged in federal court on two counts of possessing a firearm as a felon. If he's convicted he could face up to 20 years in prison.
But the new deal indicates that he's negogiating a deal which includes less time behind bars.
In addition, the parties state that they're only asking for the trial date to be moved because some of the lawyers involved have take time off and need more time to negotiate the details outside the courtroom.
"The parties believe they may have resolved this matter subject to certain approvals including a meeting with the Court. However, due to various schedule conflicts, counsel have been unable to finalize the matter and given defense counsels respective absence from the jurisdiction over the next week, will be unable to finalize the matter prior to the trial date," the documents revealed.
The lawyers plan to present the court with the deal and ask for approval upon their return.