Quiverfull Of Scandal: Leader Of Religious Movement Linked To Duggar Family Sued For Allegedly Making Teen 'Personal Sex Slave'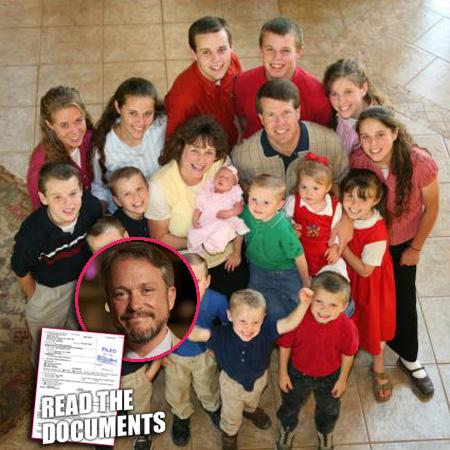 Last year the head of a controversial Quiverfull movement, married father of eight Douglas Phillips, resigned after being caught having an affair with a young woman.
Now Phillips — a close friend of the Duggar family and actor Kirk Cameron — is at the center of a disturbing lawsuit in which a teenage girl claims the one-time leader of Vision Forum Ministries was groomed as a 'personal sex slave' since the age of 15, leading her to believe they would be married, and RadarOnline.com has the court filing.
Article continues below advertisement
Torres also named Vision Forum for negligent supervision and retention, claiming they were aware of the alleged abuse and turned a blind eye for their leader.
"This suit arises from inappropriate, unwanted, and immoral sexual acts committed by Douglas Phillips against Ms. Torres," the lawsuit states, noting they all occurred in Bexar County, Texas.
Among the disturbing accusations:
"As described herein, Douglas Phillips used Ms. Torres — against her wishes and over her objections — as a personal sex object. Douglas Phillips repeatedly groped, rubbed, and touched Ms. Torres' crotch, breasts, and other areas of her body; rubbed his penis on her; masturbated on her; forced her to watch him masturbate on her; and ejaculated upon her. This perverse and offensive conduct repeatedly took place over the course of several years."
Article continues below advertisement
Throughout the 30-page complaint are specific incidents with dates in which Torres claims Phillips assaulted her.
"In July 2007 Douglas Phillips invited Ms. Torres to 'help' him on one of his events. That night when standing next to Ms. Torres, Douglas Phillips put his hand under her hair around the back of her neck and massaged her neck," the document states.
"Another time Douglas Phillips sat next to her while she watched a movie with his children. While watching the movie, Phillips reached out and massaged her leg."
Eventually, Torres moved in with Phillips and his family, acting as a sort of nanny — but she claims it wasn't long before he began to enter her bedroom without her permission to touch "her breasts, stomach, back, neck, and waist."
The civil suit continues, "As a result of the manipulation of this movement, Ms. Torres's thinking was altered. As described herein, Douglas Phillips — standing in a position of influence and prominence within patriarchy — methodically groomed Ms. Torres so that she would eventually participate in illicit sexual rendezvous with him promising that she could one day marry him."
Article continues below advertisement
In 2013 Torres, along with her parents, approached elders at Boerne Christian Fellowship Church — a church led by Phillips — to inform them of the leader's inappropriate behavior.
19 Scandals & Counting! The Duggar Family's Biggest Secrets REVEALED
Months later Torres allegedly received a "threatening" email from Phillips' wife, Beall, that read as follows:
During the last ten weeks, and ultimately for the last nine months, you have been lighting bombs all across the country. Right now, you may have a perception of peace, but what you don't know is that these bombs are about to explode in a manner that will change all of our lives forever. It will affect your life, your marriage prospects … your parents … and thousands of other people. It is far worse than you imagine.
Torres is requesting a jury trial and is seeking more than $1 million in damages.