Casey Anthony Asks Judge To Dismiss Defamation Lawsuit: Claims, It's 'Pure Fiction!'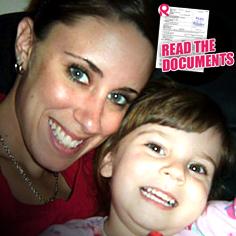 Six years after two-year-old Caylee Anthony was brutally murdered, her mother, Casey Anthony is playing the victim. RadarOnline.com has learned that Anthony has formally asked a judge to dismiss a defamation lawsuit filed against her, saying it's "pure fiction," and a waste of judicial resources for it to proceed. What's more, she wants the plaintiff to pay her legal fees!
Zenaida Gonzalez sued Casey Anthony for defamation after she publicly claimed a nanny by the same name had kidnapped her daughter, Caylee Anthony in 2008.
Article continues below advertisement
According to court documents obtained by Radar, Anthony's lawyers have asked that "This Court should enter summary judgment in favor of Casey Anthony, dismissing the Complaint with prejudice, and awarding Ms. Anthony costs and such other relief as is just and appropriate."
"This fictional play, set in theatre of the absurd, has run all too long, needlessly wasting judicial resources," the documents continue. "Zenaida Gonzalez's efforts to dress herself up in the 'nanny's' costume when reviewed by this Court in its natural sense without forced or strained construction, is pitiable, not actionable."
Among the reasons Casey Anthony says the lawsuit should be dismissed is because she told cops the last person she saw with her daughter was "Zanny the nanny," and that her name was Zenaida Fernandez-Gonzalez. Anthony insisted she had met a woman with that name in 2006, through friends, and she had babysat for Caylee once before.
Zenaida Gonzalez admitted during her deposition that no one has ever called her "Zanny" and that she "never had more than one last name."
Article continues below advertisement
Furthermore, Anthony argues that the information she gave to cops naming "Zanny" was "privileged information" and wasn't done in a public forum.
Anthony was subsequently charged with homicide and the prosecution sought the death penalty, but on July 5, 2011, she was found not guilty and acquitted.
On January 23, Anthony sat for a two hour deposition, and transcripts of it were formally filed in federal court on Tuesday.
According to the Orlando Sentinel, "Anthony refused to answer many questions, prompting Gonzalez's lawyers to ask a judge to compel her replies. A hearing on that motion is set for next week."
The motion is under submission to the judge.