Exclusive
Mother Knows Best? Brooke Mueller Granted Full Custody Of Troubled Twins With Charlie Sheen!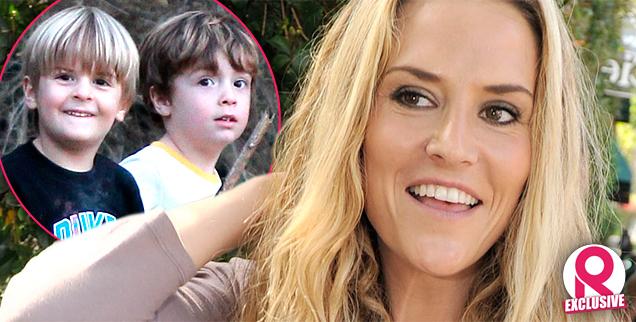 After 20 stays in rehab, Brooke Mueller is back on the straight and narrow – at least according to a judge. Nearly a year after Mueller lost custody of Charlie Sheen's twin sons, Bob and Max, RadarOnline.com has learned that the former crackhead has been granted full custody of the boys, and won't be required to undergo further random drug tests!
"Brooke was recently granted full custody of Bob and Max by a child dependency judge after it was deemed that she had complied with all of the terms set forth by the Los Angeles County Department of Children & Family Services," an insider tells RadarOnline.com.
Article continues below advertisement
What's more, the source adds, "Moving forward, Brooke won't have to undergo random drug tests. DCFS will keep in contact with Brooke and check up on the boys, but there will be no unannounced visits. As far as Child Protective Services is concerned, Brooke has made a successful recovery, and is now ready to be the legal custodial parent for the boys."
"Family reunification is always the goal in these types of cases," the source continues. "Splitting up a family, take children away from either the mother or father, only happens in extreme cases of neglect and abuse."
Mueller, 36, lost custody of the twins after being placed on a psychiatric hold last year after a drug overdose. Sheen's ex-wife, Denise Richards, then became their temporary guardian until she was forced to give them up after witnessing their disturbing behavior and violence towards her three children and family pets.
Scott Mueller, Brooke's brother, subsequently became the boys temporary guardian.
Article continues below advertisement
Meanwhile, Mueller has been getting along "splendidly" with her ex-husband and his porn star fiancée, Brett Rossi, as RadarOnline.com has reported.
Sheen and Rossi "both had the idea to invite Brooke to their wedding," an insider previously told RadarOnline.com. "They all get along and are one big happy family. It might be unconventional for most people, but not for Charlie's wacky world!"
In addition, the source explains, "Having Brooke at the wedding will also show the twins that they all get along.