Exclusive
'Real Housewives Of Beverly Hills' Fear Co-Star Yolanda Foster's Husband Music Composer David Foster Has 'Wandering Eye' - Source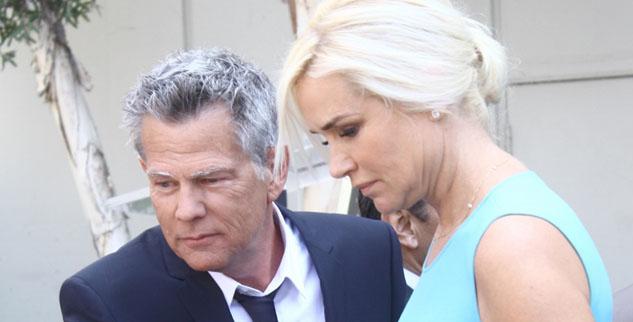 The ladies of the Real Housewives of Beverly Hills fear their co-star Yolanda Foster's renowned music composer husband, David Foster, has a wandering eye towards much younger women, amidst rumors that the couple have hit a rocky patch, RadarOnline.com is exclusively reporting.
"David definitely likes to flirt with women, especially much younger ladies....Yolanda's fellow housewives including Kyle Richards and Brandi Glanville are concerned about David's wandering eye. Don't forget, this is David's fourth marriage. He has had issues in the past with being in committed relationships," a source told RadarOnline.com.
Article continues below advertisement
David's rep previously told RadarOnline.com rumors of a split were "totally not true."
Tongues began wagging after the couple recently decided to put their Malibu home up for sale. The asking price for the mansion is a whopping $27.5 million.
Fans have seen Yolanda cooking dinners for David in the fabulous mansion, which features a custom glass refrigerator, six bedrooms, a state-of-the-art screening room, a recording studio for the musician, and stunning mountain and ocean views.
Last year, David also put his ritzy apartment in Canada up for sale for $5 million.
And in a surprising name change, Yolanda was credited as "Yolanda Hadid" in the credits for Lady Gaga's housewives-filled new music video — not Foster, which she normally goes by professionally.
Yolanda and most of the other RHOBH cast members did cameos in Gaga's video called "G.U.Y.–An Artpop Film."
On the housewives' recent trip to Puerto Rico, the others called out Yolanda for not having her husband around.
Yolanda explained David had made it clear the show was beneath him!
Faked Scenes, Lies & Payoffs – The Ultimate Guide To Reality TV Shows
Meanwhile, as RadarOnline.com has reported, Yolanda has ramped up her efforts to thrive on RHOBH as sources said she's lobbied for Mohamed Hadid's fiance, Shiva Safai, to join the show.
A separate source tells us, "David loves the idea of marriage....but given the fact he has been married four times, says something. He would probably be better off single, but Yolanda absolutely worships the ground he walks on, and does treat him like a king. It will be interesting to see where they are in the next five years as a couple."