Exclusive
Trouble In Paradise For 'RHOBH' Star Yolanda & David Foster? She Reverts To Former Last Name, As Marital Home Is Listed For Sale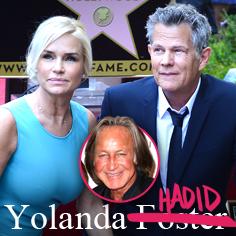 Is there another real housewives split on the horizon?
That's what fans are wondering as rumors are flying that The Real Housewives of Beverly Hills star Yolanda Foster and her composer husband David Foster are splitting up.
The couple, famed for their lavish Malibu lifestyle, have recently been listing their real estate.
And Yolanda is suddenly using her former married name, Hadid — not Foster! Still, David's rep previously called the rumors of a split "totally not true."
Article continues below advertisement
As RadarOnline.com has reported, the Fosters put their Malibu home up for sale earlier this year for a whopping $27.5 million.
Fans have seen Yolanda cooking dinners for David in the fabulous mansion, which features a custom glass refrigerator, six bedrooms, a state-of-the-art screening room, a recording studio for the musician, and stunning mountain and ocean views.
Last year, David also put his ritzy apartment in Canada up for sale for $5 million.
And in a surprising name change, Yolanda was credited as "Yolanda Hadid" in the credits for Lady Gaga's housewives-filled new video -- not Foster, which she normally goes by professionally.
Yolanda and most of the other RHOBH cast members did cameos in Gaga's video called "G.U.Y.--An Artpop Film."
However, the 50-year-old former model has also tweeted romantic photos of herself with David this month with #MyLove. Yolanda is David's fourth wife and they've been married since 2011.
As RHOBH fans know, though, Yolanda, who had three kids with her wealthy former husband, Mohamed Hadid, has had trouble involving David, 64, in her reality show.
On the housewives' recent trip to Puerto Rico, the others called out Yolanda for not having her husband around.
Yolanda explained David had made it clear the show was beneath him!
Meanwhile, as RadarOnline.com has reported, Yolanda has ramped up her efforts to thrive on RHOBH as sources said she's lobbied for Mohamed Hadid's fiance, Shiva Safai, to join the show