Tori Spelling's Worst Nightmare: Dean McDermott's Ex Hints She's Ready To TELL ALL!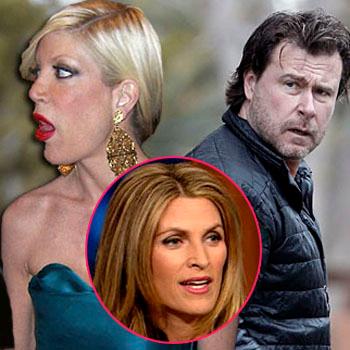 It's been a rough year for Tori Spelling -- and it might be getting even worse. After the reality star has weathered her husband Dean McDermott's alleged cheating, the loss of their retail store and ongoing legal issues related to a $60M lawsuit, RadarOnline.com has learned that she could be hit with her biggest hit yet -- a tell-all from McDermott's ex-wife!
McDermott hooked up with Spelling in 2006 while he was still married to Canadian actress Mary Jo Eustace. And though she was relatively tight-lipped through recent rumors that McDermott had cheated on Spelling, she recently hinted that might be changing.
Article continues below advertisement
"Waiting to hear about an amazing project," she tweeted coyly on February 24. "Spilling all my secrets …."
Eustace spoke out briefly after McDermott entered rehab, admitting, "My main concern at this time is the well-being and health of the son Jack,15 we share. I wish Dean only the best in his struggle to overcome the demons he has been wrestling with for many years, so he can become the father and the man I know he wants to be."
It's been five years since Eustace first dished the dirt on her marriage to -- and subsequent split from McDermott.
At the time, it was reported that her juicy revelations about Spelling and McDermott's affair sent Spelling to the hospital. "They believe it could be stress-related," a source told Star magazine at the time.
But whatever the nature of Eustace's secrets spilling, it seems recent events may have taken a toll on Spelling's physique. The actress was shockingly thin at a meeting in L.A. last week, prompting fans to air their concern on Twitter.
"So skinny! Hope her health is ok," @Lex1020 wrote.
And @DuchessSpencer chimed in, "Tori Spelling looks thin …"
Still other users called her "insanely skinny."
Spelling, meanwhile, insists that all is well. On March 18, she tweeted, "Do you ever look in the mirror and think god d*mn who is that pretty bitch in my reflection n then wink at yourself"