'Teen Mom' Feud! Jenelle Evans Fires Back At Amber Portwood For Declaring She Should Be Jailed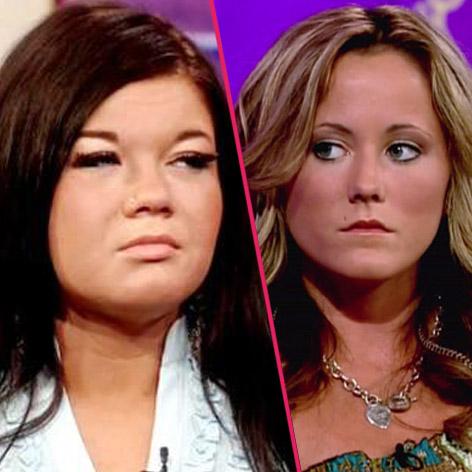 After Amber Portwood offered some tough love for fellow troubled Teen Mom star Jenelle Evans – that she could benefit from time behind bars – Evans fired back, refusing to take the criticism lying down.
"Amber Portwood... I never judged u or said one negative thing since u have been out of jail... Why start with me? Can't be happy I suppose," Evans, who is pregnant with her second child, this time to boyfriend Nathan Griffin, wrote.
Article continues below advertisement
As RadarOnline.com previously reported, Portwood had blasted Evans' alleged drug use during her pregnancy and believed she could benefit from being locked up.
"As scary as it seems, it would change her life for the better," Amber told InTouch. "Jenelle hasn't hit rock bottom yet. But if her rock bottom is lower than mine, that makes me scared for her."
"Jenelle went down the exact same path I did: unplanned pregnancy, addiction and bad relationships, having custody taken away," Amber said. "But it's never too late for Jenelle to turn her life around."
Portwood didn't stop there, calling Evans "irresponsible and immature."
"You have one child you need to think about before you have another," she said, noting that Evans doesn't have custody of her son, Jace.
The feud continued over social media, as Evans called out her former co-star, who served 17 months in jail after failing to comply with mandatory terms of her drug program that was part of her probation following an arrest for domestic battery against Gary Shirley.
"I love how it look towards more of the positive side of things, yet ex teen moms want to try to bring me down. It's sad, focus on yourself," Evans added.