Exclusive
From Goop To Poop: Stick Thin Gwyneth Paltrow Determined To Lose Weight With Colon Cleanse Post-Split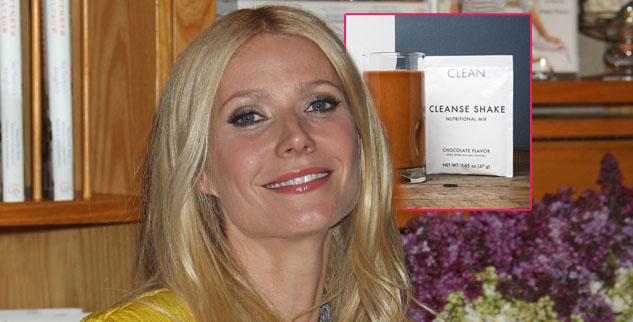 Goop, she's done it again!
Already stick thin Gwyneth Paltrow has startled her friends by vowing to lose at least five more pounds, RadarOnline.com has learned.
And she's turning to an old plan that many think is disgusting--and even unhealthy--to achieve her goal, an insider revealed.
"Gwyneth is leaning on her old diet trick, high colonics, in order to lose at least five to seven pounds," the source told Radar.
Article continues below advertisement
"She has been going to Dr. Alejandro Junger, her New York city colonic specialist, for years to give her weight loss a little boost and she's paying him visits again."
Those who try colon cleansing hope to remove feces and toxins from the colon by consuming lots of high fiber shakes and dietary supplements.
And Dr. Junger has devised a 21-day "clean program" which features his special regimen that has been enthusiastically praised by Paltrow, 41, on her Goop web site.
"I can report that it worked wonders," she has previously raved in a testimonial for Dr. Junger's shakes and supplements.
In his plan, dieters only consume one solid meal a day at lunchtime, while downing fiber-rich shakes and supplements with healthy snacks for breakfast and dinner.
Some experts think the colonic process is medically sketchy and can cause more harm than good.
In Paltrow's case, those who care about her fear she's wasting away!
Article continues below advertisement
"Her friends don't want to see her lose any more weight and think it's totally gross, but Gwyneth is such a fan of the process she even sells her own $425 colonic kits on her site," the source said.
And it proves Paltrow has rejected Vanity Fair editor Graydon Carter's suggestion that she actually put on weight!
In addressing the alleged epic VF Paltrow "takedown piece" (which has been shelved for now) Carter revealed to readers in a magazine editor's note he'd talked to the actress about her public reputation.
"We are, however, and always will be a family, and in many ways we are closer than we have ever been. We are parents first and foremost, to two incredibly wonderful children and we ask for their and our space and privacy to be respected at this difficult time. We have always conducted our relationship privately, and we hope that as we consciously uncouple and coparent, we will be able to continue in the same manner."