Exclusive
Bad Karma?! Russell Brand Plans To Buy Property In India, Where He Married Ex-Wife Katy Perry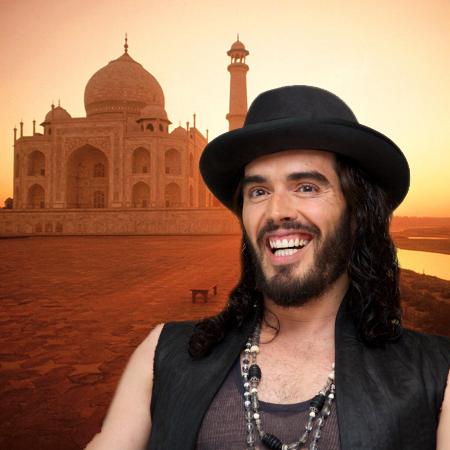 Russell Brand's Indian-themed marriage to Katy Perry didn't last, but he hasn't let bad karma affect his spiritual affinity for the country.
In fact, the comedian is so obsessed with yoga, Hinduism and all other things Indian, that he's determined to buy property in India and live there six months a year!, RadarOnline.com has learned.
"Russell consulted his Indian guru early this year about the idea and is now making noise about buying an estate or plantation in India," a source said.
Article continues below advertisement
"He wants to be closer to his various spiritual, dietary and heath guides in the country and is telling pals that he would like to spend as much as six months out of the year in India."
And Brand, 38, obviously has shaken off the disaster of his brief marriage to Perry, 29, which started with the pair getting engaged--and then hitched--in Jaipur, India.
Both stars rode elephants at the lavish wedding ceremony at the Rambagh Palace but 14 months later, they split up.
"It's a very tiny elephant," Perry said last year about their divorce, which was final in 2012.
As RadarOnline.com has reported, Perry also sold the Hollywood Hills home they had bought together.
Now, Brand is eager to settle in India by himself, the source told RadarOnline.com.
"He will probably rent a home there immediately before he plunks down the millions he would need to buy a place, but he's serious about this move, arguably more so than his movie career."
According to the source, Brand, who has written columns for The Guardian and got good reviews for his autobiography, Booky Wook 2: This Time It's Personal, "much prefers writing books to acting and feels that if he can generate a book every two or three years his lavish lifestyle shouldn't have any upkeep issues."