'Kim's A B*tch!' Kardashian's Opera Ball Date Says He Was 'Relieved' When She Stormed Out Over Blackface Scandal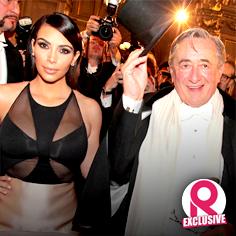 Modern-day Cinderella Kim Kardashian rushed out of Vienna's historic Opera Ball well before midnight on Thursday, after encountering a prankster in blackface. But unlike the fairy tale, her date didn't exactly rush after her. RadarOnline.com has learned that Austrian billionaire Richard Lugner professed to being "relieved" when the reality star left the party, finally putting an end to their bitter few days together -- for which he had paid $500,000.
Article continues below advertisement
"She's already in bed," Lugner complained when approached by reporters near the end of the ball. "I'm relieved. She's a b*tch."
Indeed, he had made no secret of his distaste for Kardashian even before she left him stranded on the dance floor.
Soon after her arrival in Austria, he announced, "Kim is annoying me. Because she's not sticking to the program. She's filming and so she doesn't want to have me around."
The 81-year-old angrily insisted, "The guest should be with me and not anywhere else that is not agreed up."
Kardashian reportedly stood him up for a planned date just hours after her arrival to dine at a Schnitzel restaurant with her mother, Kris Jenner. She also left a planned autograph signing at one of Lugner's malls early, he claimed, and broke a date with him to have their photos taken together before the ball because she wanted to feed daughter North West.