'RHOA' Drama Before The Big Fight: Porsha Williams Ditches Rehearsals for Kandi Burruss' Play To Party Up A Storm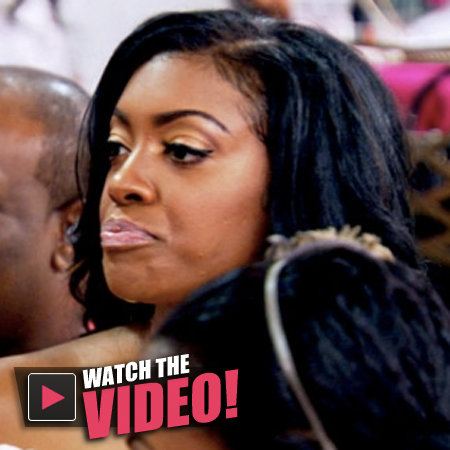 Article continues below advertisement
And Burruss, 37, was disappointed that Williams, 32, who was playing her little sister in a singing role, reverted to her usual diva ways.
Williams had a lawyer go over her contract and make demands such as her own dressing room, big billing, and gas money.
"I thought I was looking at Mariah Carey demands," Burrus' manager Don Juan said.
Burruss sighed to Bravo's cameras, "Some of her demands are not matching her resume."
Williams was shocked to find out Burruss and her manager weren't happy.
"It was a very expensive list and some of that I just can't do," Don Juan told her.
Williams told the cameras, "I'm feeling a little bit ambushed" as Kandi also rejected her requested perks.
Later, Williams was nowhere to be found as R&B singer Eddie Levert (famed for being in The O'Jays) rehearsed for his role in Burruss' play.
Burruss sighed to Bravo's cameras about her missing co-star, "You need to be here to learn. It makes me nervous with all this choreography."
Article continues below advertisement
Williams claimed she was still waiting for her contract to be finalized, leading Kandi to question putting her in the play at all just two weeks before the premiere.
Don Juan alluded to Williams' nascent singing career, laughing that she was on tour.
"She opening up for Kenya?" Burruss joked to her management team about Williams.(As RadarOnline.com readers know, Williams just released a single -- just as news broke about her allegedly attacking Kenya at the reunion show).
Faked Scenes, Lies & Payoffs – The Ultimate Guide To Reality TV Shows
They laughed that it would be the "Twirl Tour," named for Moore's trademark move.
Raising her eyebrows to the cameras about Williams' reliability, Burruss noted that football player's ex-wife was "the only person with an understudy" for the play.
Meanwhile, Bravo cameras caught Williams declaring to the cameras she felt her life was coming together as she walked into a nightclub! "My divorce is almost over," she exulted.
Article continues below advertisement
Williams said she hadn't yet figured out how to act as a single woman. But her head got turned by a hunky pro golfer at the restaurant, and flirted with him as he sexily showed her how to swing a club.
When he asked for her phone number, however, Williams gave him her sister's number instead.
"I'm not quite ready to go there," the new singleton admitted.
Viewers also saw the aftermath of NeNe Leakes calling Cynthia Bailey's husband Peter Thomas a b*tch on last week's episode. The B word controversy happened after NeNe's husband Gregg Leakes got angry with Peter in Mexico for having criticizing her at a charity event.
NeNe, 46, claimed she had not said Thoms WAS a bitch, but was acting like one!
Later, Bailey and Thomas and NeNe and her husband Gregg Leakes met for dinner to discuss the tense situation that was wrecking their friendship.
Thomas said he didn't like it when Leakes called him a bitch."I'm not to call you anything outside your name," Peter pointed out to her.
NeNe copped to being outspoken: "I just say whatever it is I want to say. I don't feel that you are a bitch. I was trying to say you were acting like a bitch. It was a heated moment."
Article continues below advertisement
NeNe apologized to Thomas again and told the cameras her relationship with Bailey, 44, was the most important to her on RHOA, so much that nothing should come between them. Both couples wound up holding hands as friends at the end of the night and Gregg also said sorry to Thomas.
Also on the episode, fans saw Moore (with her new friend Marlo Hampton looking on) learn what it was like to be a mom by handling a fake baby!
Moore, 43, who has talked about her desire to have a child, with or without a partner, enlisted the help of parenting coach Susan Eply to judge her on how she treated the anatomically correct baby girl doll.
"You could name her if you want," Eply said. Moore comically told the cameras she didn't want the phony baby to be named Porsha because she wants her to be able find the U.S. on a map!
Then Moore proudly told Eply, "I have enough money to have a nanny or two."
But as a promo for next week's RHOA episode promised, all eyes will be on Moore's new enemy, Williams, as she continues to have problems committing to Burruss' play.