'Millionaire Matchmaker' Patti Stanger 'Set Me Up To Fail!' Claims Doctor Worth $10 Million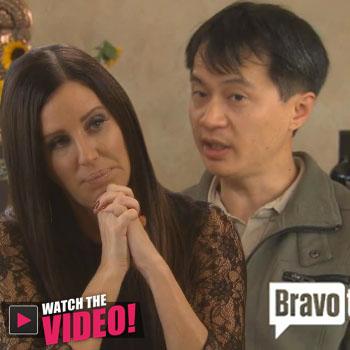 Patti Stanger didn't succeed in finding Dr. Emil Chynn the love of his life on The Millionaire Matchmaker– and now he's exclusively telling RadarOnline.com that she set him up to fail!
"The show's producers reached out to me, and I was hesitant about going on the show. But I thought, what the hell. Maybe I'll meet somebody," he told to Radar.
But as soon as he met with the reality TV matchmaker, a series of red flags told the doctor, who claimed he was worth $10 million "give or take a million," to run.
Article continues below advertisement
"When I first met her, she was screaming on her phone, ripping the person and tearing them a new a--hole -- and there weren't even cameras around. I thought she had a shtick for the show, but that's her real personality," he said.
Then, Chynn claimed Stanger did everything she could to "get a rise" out of him once the Bravo cameras were rolling.
"She is abrasive. There is a difference between being honest and flat out mean. She wanted me to argue with her on camera. They wanted me to look bad," he said. "She set me up to fail!"
During their meeting, the Manhattan LASEK eye doctor told Stanger his dream woman would be between the ages of 28 and 34 – but when he got to the mixer, he claims the oldest woman was 27.
"I told the producers they cast way outside my age requirements. And of course, Patti started yelling at me for picking a 25 year old. I told her it wasn't my fault she casted everyone so young. Of course, they have the power of the edit and cut my side out," he revealed.
Article continues below advertisement
"Even though she is supposed to be on my team and help me find love, I constantly had to worry about her setting me up. It was difficult filming knowing she was ready to stab me in the back," he added.
Although he picked a woman named Stephanie for his date, he said they "had no chemistry whatsoever."
"That was one of the most painful dates of my life. It was horrible," he revealed. "Of course, they tried to paint me like I'm too cerebral to find love and connect with a woman."
Although Stanger wasn't able to find a match for Dr. Chynn, he's still hopeful that his future wife is out there.
"If anyone can set me up, and I wind up marrying her, I'll donate $100,000 to the charity of their choice," he said. "It's a win-win for everyone."
UPDATE 10:31am PT - Patti responded to Radar's story on Twitter Friday morning by calling Dr. Chynn cheap! "Thx @radar_online for the dr Chen story but it didn't happen that way," she wrote. "If he's so rich why doesn't he hire a matchmaker in nyc? Cheap!"
Watch Dr. Chynn's submission video on The Millionaire Matchmaker: