Exclusive
Mad Max-imum Pain: Mel Gibson's Ex Oksana Grigorieva 'Devastated' He's Fighting Her For Custody Of Daughter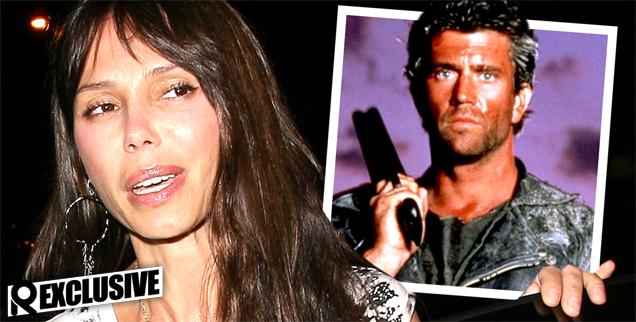 Oksana Grigorieva is devastated her superstar ex Mel Gibson could be so cruel to Oksana as to attempt to gain full custody of their four-year-old daughter, a source close to the pianist told RadarOnline.com claimed.
They vowed Grigorieva will fight "with everything she's got" to stop the Mad Max actor!
RadarOnline.com broke the story: The former girlfriend of Gibson, 58, may be facing a renewed battle, as he considers going to family law court in Los Angeles in an attempt to get more custody of Lucia, following an incident involving law enforcement and Oksana Grigorieva's eldest son with ex-007 Timothy Dalton.
Article continues below advertisement
Confirming the news that Gibson is considering going to family court to gain more custody of Lucia, the source said: "Gibson has requested a custody assessment claiming he would be a better influence on their child than the mother. It is complete nonsense. Lucia means everything to Oksana and they have an incredibly close bond. She is dumbfounded that he would even consider the idea of trying to gain more custody of his daughter, It shows how cruel he can be to Oksana. In fact she and most of those who support her feel such an action would be no more than a clear demonstration of spite by Gibson.
"Oksana is a strong and honest woman as well as a great mother and she will fight with all she has to make sure the judge who decides this case is shown in the clearest terms how wrong it would be"
Grigorieva reluctantly signed a 50/50 custody agreement and $750,000 settlement with Gibson in August 2011 after a lengthy court battle, say sources.
Even though she was intially offered $15m by Gibson she turned it down - NOT that she was hoping for a bigger pay-out, according to the insider.
Article continues below advertisement
The source said: "Oksana rejected the $15m that was offered in the beginning and splitting custody to 50 per cent as she did not want to give any custody to a man who had physically assaulted her when she held the two month old baby in her arms. However it took 18 months of the very well connected 'Mel Gibson Machine' and his enormous wealth up against a single woman from a foreign country with little resources and no connections, to let him get away with… 50 per cent of custody at the child's age of almost two years.
"Now apparently that outcome isn't enough for him."
Ever since the 2011 agreement was signed all future disputes between the pair have taken place in a private Los Angeles court and assigned to a retired judge.
"When last December his lawyers persuaded the judge to release him of his obligation to pay the outstanding two thirds of the battery money ($500,000 according to the source not $375,000 which has been widely reported), for her alleged breach of the confidentiality clause in an interview she gave to Howard Stern while promoting her music career, she was left with no other option than to file bankruptcy.
Article continues below advertisement
"Her financial situation has forced Oksana into an impossible stituation where she is forced to represent herself against an army of Gibson's well-paid lawyers. Now Gibson seems hell-bent to take full advantage of the situation that his money has bought him and seeing Oksana in a vulnerable position he seems bent on trying to hurt Oksana.
The source also pointed out that Grigorieva has an unblemished record and has behaved with considerable dignity during their ugly split unlike some of Gibson's behavior.
The source said: "Oksana is an acclaimed musician with just one questionable spot on her record, which is falling in love with Mel Gibson. While he is a man who has been forced to serve probation, had numerous run ins with the authorities, who is arguably feared by many who were subjected to his violent anger outbreaks and who has struggled with alcohol abuse. The fact he has requested a custody assessment, claiming he would be a better influence on their child than the mother is quite unbelievable to Oksana.
"Now the parties are back in the public court of Judge Scott Gordon we will see how much further Gibson is willing to push it to take what she feels is revenge on the one woman who dared to stand up to him, tell him no and call him out for his abhorrent behaviour."
MEL AUDIO TAPE #2: Mel Gibson Admits Hitting Oksana, Threatens To Kill Her
Gibson, 58, pleaded no contest to a charge of domestic violence against Oksana Grigorieva in March 2011. He received three years' probation, was ordered to spend one year in counseling, perform 16 hours of community service and pay fines and court costs.The Braveheart actor later admitted striking Oksana but claimed he was trying to get her to stop shaking Lucia as the couple argued.