Lady Gaga & Kelly Osbourne Bury The Hatchet – But Not In Each Other's Backs!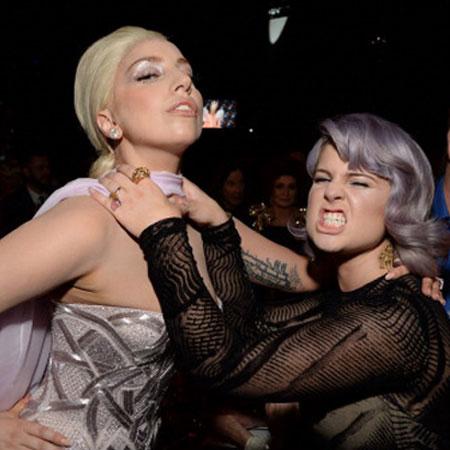 One of the nastiest feuds in Hollywood has finally come to an end, and not with an explosive shouting match but with a simple hug between multi-platinum selling artist Lady Gaga and foul-mouthed Kelly Osbourne.
The 'Born this Way' singer came face to face with Sharon Osbourne's daughter on Sunday night at Elton John's Annual AIDS Foundation Academy Awards viewing party.
Posting a cheeky picture where she has her hands around Lady Gaga's neck (with Elton photobombing!) Kelly wrote "Peace at last," about the two finally putting aside their bad feelings.
Article continues below advertisement
Despite having a rock solid career as an international super star with her own fashion house, reality show star Kelly attacked Lady Gaga over her 2012 Grammy Awards outfit on Fashion Police and then let her mother join the fight when the Art Pop singer's fans sent threatening messages to her daughter.
Lady Gaga tried to mend fences in 2013 with a birthday cake to Sharon which Kelly promptly slammed as a "publicity stunt," but now it seems like all is good between the two.
Are you Team Lady Gaga or Team Kelly? Tell us in comments.