Exclusive
Mother Knows Best! Kirsten Dunst's Mom Inez Wants Her To Marry Garrett Hedlund — And Forget Ex Jake Gyllenhaal!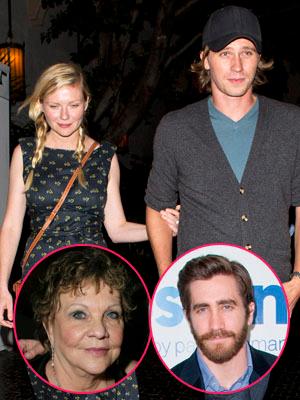 Kirsten Dunst's mom couldn't be happier that she's headed for the altar with actor boyfriend Garrett Hedlund --and is glad she didn't settle down with former love Jake Gyllenhaal, RadarOnline.com has learned.
Inez Dunst "is telling pals her daughter and Garrett are going to get married," a source who spoke to the star's mom told RadarOnline.com. "Inez says that she's thrilled that her daughter has finally found true love."
Article continues below advertisement
Kirsten, 31, has been head over heels with Garrett, 29, since they met while doing the movie On the Road.
And mom heartily approves! "Inez thinks Garrett makes her happy, unlike some of her previous boyfriends."
The Marie Antoinette star has had a turbulent life that included a brief hospitalization for depression in 2008 and a slew of relationships. Kirsten's ex-boyfriends reportedly included actors Gyllenhaal, Orlando Bloom, Ben Foster, Tobey Maguire, Adam Brody, and Justin Long and rockers Jason Boesel and Johnny Borrell.
According to the source, Inez didn't approve of Gyllenhaal, who dated Kirsten from 2002-2004, because he was "too Hollywood."
Gyllenhaal, 33, is the son of a director and a screenwriter, and the brother of actress Maggie Gyllenhaal. The source noted: "When describing Garrett to pals, Inez makes sure to remind people that, like the Dunsts themselves, Garrett doesn't come from a rich, snobby Hollywood family.
"Inez never really got along with the Gyllenhaals but is excited about Garrett and thinks there will be a proposal soon. Kirsten is desperate to have kids and Inez can't wait to go to their wedding--and then become a grandma!"