Exclusive
Kanye West Puts Kim Kardashian On Lockdown: Tells His Fiancee 'No More' Paid Appearances After Vienna Ball Blackface Scandal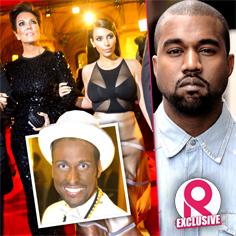 Kanye West has put his baby mama Kim Kardashian on notice -- no more  paid appearances after her disastrous date to the Opera Ball in Vienna, RadarOnline.com has learned.
The Keeping Up with the Kardashian star's  appearance at the party ended with her date Richard Lugner publicly slamming her as "annoying" and then the E! star being accosted by a man in blackface.
Upset, 33-year-old Kardashian called West, who was "livid," a source told Radar.
Article continues below advertisement
"He went nuclear when Kim told him someone had used the N-word in front of her and one of the guests was dressed in blackface. It was his advice to leave right away, no questions asked."
Revealed: 35 Secrets The Kardashians Want Hidden
As we previously reported, Kardashian was paid $500,000 to be his date.
"It's not about the money. Kanye told her no more paid appearances. It was selling her soul and not worth it. How much more money does Kim need? It cheapens Kim and her brand to be paid to go to parties," the source added.
We've also learned momager Kris Jenner is balking at West's new demands because she gets a percentage of the paychecks her daughter collects!
Celebs Who Have Slammed The Kardashians
"Kris gets a 10 percent cut of all deals she brokers on behalf of Kim, which means she made $50,000 off of the Austrian appearance," the source said.
"She is always telling Kim that opportunities to make such big money isn't always going to be there... her motto is, you have to strike while the iron is hot. So for the meantime, Kris doesn't have any plans to cancel any of Kim's upcoming appearances. In fact, she is still booking Kim! Kim is stuck in the middle."