Exclusive
They Can't Escape The Drama! Husband Of 'Real Housewives Of Beverly Hills' Star Lisa Vanderpump Has Lawsuit Against Contractors Dismissed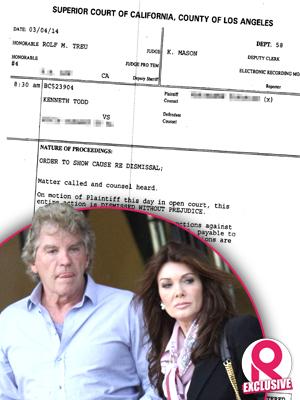 Lisa Vanderpump and her husband Ken Todd are at the center of another drama — but this time, it's not as a result of their bitter nemesis Brandi Glanville.
The British entrepreneurs have had their lawsuit against two contractors dismissed. Todd had alleged two men tried to extort money from him, after he was supposedly attacked with a concrete chipper.
As RadarOnline.com previously reported, the Real Housewives of Beverly Hills house housband filed the court claim last October claiming that he was the victim of an "attempted shakedown and extortion" by a "violent and opportunistic ex-felon" named David Cazaref and his brother Kevin, who allegedly attacked him at his new restaurant location and then hatched a plot to scam him out of $50,000.
Article continues below advertisement
The civil lawsuit stated the Cazaref brothers were hired as subcontractors and when Todd tried to instruct Kevin on the proper way to use a concrete chipper at their trouble-plagued restaurant P.U.M.P Lounge, the violent incident occurred.
It was alleged, "To Plaintiff's absolute shock and horror, Defendant Kevin Cazaref, suddenly and without provocation, became enraged, grabbed and violently hurled the heavy concrete chipper at Plaintiff, striking Plaintiff at close range and causing serious and permanent injury to Plaintiff's lower body, including his hip, leg and knee."
But according to court documents obtained exclusively by RadarOnline.com, "the entire action is dismissed without prejudice."
The court reduced sanctions against the counsel for Plaintiff, Todd, from $350 to $250 payable to the County of Los Angeles, documents revealed
They were imposed after Todd's lawyers failed to file a proof of service and failed to file a "case management conference statement filed" with the Court.
Article continues below advertisement
Todd had alleged the Cazaref brothers approached him and tried to secure a cash payment to keep the story quiet.
They made "express oral complaints that they would go to the police with their false and fabricated accusations and have Plaintiff arrested and charged with battery, brazenly boasting that they had a family member with connections to the police department in the area who would assist them.
"In perpetuating their fabricated story, unless Plaintiff paid Defendants at least Fifty Thousand Dollars ($50,000) in cash," it was claimed.
Vanderpump's husband said he suffered from "severe and serious mental and emotional distress, pain and suffering, all to his damage at an amount to be proven at trial" — a case that will now unlikely have its courtroom sequel.