Exclusive
'RHOBH' Star Lisa Vanderpump & Husband Sued Over Gay Bar Feud — Injunction Sought To Halt Construction Of Their New Hollywood Lounge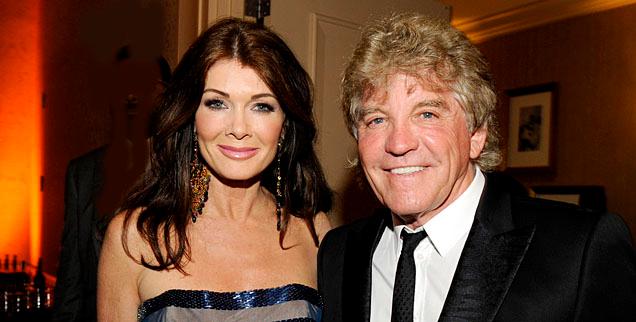 Real Housewives of Beverly Hills star Lisa Vanderpump and her husband Ken Todd have been named in a fraud, breach of contract and deceit lawsuit which seeks to stop the reality television couple from opening a new venue in West Hollywood, Calif., RadarOnline.com has exclusively learned.
According to court documents filed with the Superior Court of the State of California on Wednesday, Vanderpump and Todd are accused of intentional interference with a contract and violation of competition law.
Article continues below advertisement
In 2009, it's claimed, LuLu Restaurant Group and its owners Ryan Carrillo and Andrew Gruver wanted to open a gay sports bar called Bar Varsity in West Hollywood and eventually entered into an agreement with Elie Samaha to open the venue at a property he owned, 8948 Santa Monica Boulevard, which was a defunct coffee house, Java Detour.
Businessman Elie Samaha agreed to a monthly rent of $4,000 and also agreed to put up $500,000 as an investor, after acquiring all necessary permits and attending council planning meetings.
But trouble arose earlier this year when "Samaha had represented to Plaintiffs that he would start funding the project so that demolition and renovation could move forward, but he failed to do so," it's alleged in the lawsuit.
"Instead, Defendants Samaha and Frumkes started to pressure Plaintiffs to obtain investors in Bar Varsity.
"However, due to the faillure of Samaha to make the initial $500,000 investment as he previously agreed to do, Plaintiffs other potential investors declined to invest in Bar Varsity. Plaintiffs repeatedly attempted to contact and speak with Defendants… but Defendants were evasive and filed to respond to Plaintiffs attempts at communication."
MORE ON:
Celebrity Justice
Article continues below advertisement
Then, in February of this year, Plaintiffs say they first saw a posting at the location with the name P.U.M.P. Lounge on it — a venue set to be opened by the Real Housewives stars who have spent decades owning and operating restaurants and nightclubs in London before settling in Beverly Hills eight years ago.
Thereafter, it's said, Plaintiffs learned that the British couple had leased the Java Detour Location.
"Plaintiff Carillo received a phone call from Carol Braidy, stating that the Java Detour Location had been leased to Defendants Lisa Vanderpump and Ken Todd....and indicating that the Vanderpump Defendants were not partners with Samaha."
Plaintiffs seek millions in damages including compensatory damages from Vanderpump and Todd and and emergency temporary restraining order and preliminary injunction from "demolishing, remodeling the Java Detour Location as P.U.M.P Lounge, or opening and operating the Java Detour Location as P.U.M.P. Lounge or any other entity other than Bar Varsity."
The lawsuit charged: "Defendants' misconduct was so blatant, deliberate, intentional, malicious, and with reckless disregard for the rights of the Plaintiffs."
A jury trial has been demanded.
Vanderpump and Todd are currently the owners of Villa Blanca restaurant in Beverly Hills and SUR Lounge in West Hollywood.