Exclusive
Revealed: Lisa Vanderpump's Employee Who Signed Apology Note After 'Cardboard Salad' Was Villa Blanca Manager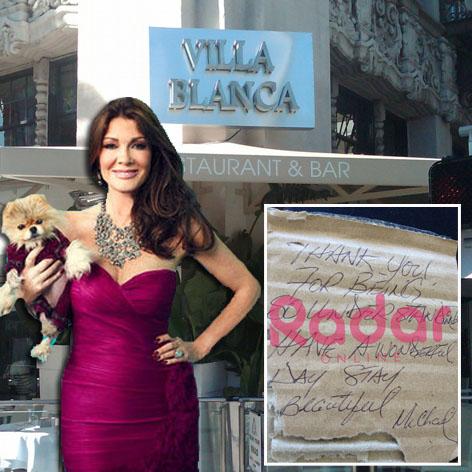 Lisa Vanderpump continues her emphatic denials about the cardboard-in-salad controversy at her Beverly Hills, Calif, restaurant. "This all feels a little strange," she said on May 30, insisting Villa Blanca had served 27 crab and lobster salads that lunchtime "with no issue."
Now, the patron who was was twice served cardboard has decided to reveal the name of the staffer who signed the apologetic note, in a bid to convince the Real Housewives of Beverly Hills star that the incident did occur!
Article continues below advertisement
"After the waiter gave us free glasses of wine, he brought over what we thought was a check. But it was the note signed by the manager of Villa Blanca, Michael," the woman told RadarOnline.com.
That's Michael Govia, whom we've confirmed is indeed the manager of the British-born reality star's popular venue. He did not return a request for comment.
He wrote, "Thank you for being so understanding. Have a wonderful day stay beautiful." It was signed, "Michael."
RadarOnline.com previously blurred out the name on the note when we first published our report.
"Michael was very nice to us and apologized. I thought his note was really nice," the customer said.
But she added: "I don't think I'll go back there. They gave me cardboard in my salad twice. I can't think of a reason to go back."
Villa Blanca had 10 violations on their last Los Angeles County Health Department inspection that was conducted on Feb. 26, according to their website.
The violations include disrepair, non-food contact surfaces – not clean (minor) and wiping cloths – not clean/inadequate sanitizer/storage. The restaurant has a 90 rating which is an A -- and remains a fixture with the affluent Tinseltown set.