Exclusive
Lisa Vanderpump Can't Deny This: See Apology Note From Waiter About Cardboard In Salad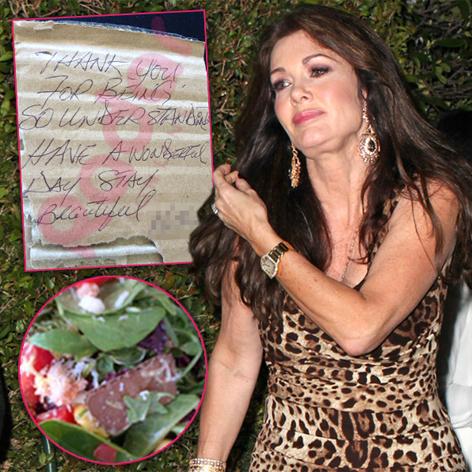 Lisa Vanderpump is trying to deny the claims that an unhappy customer was served cardboard in her salad twice at her restaurant Villa Blanca but RadarOnline.com has even more exclusive proof of the awful incident – an apology note from the waiter that was written on cardboard too.
When the diner at the Real Housewives of Beverly Hills star's Beverly Hills restaurant found a piece of cardboard in her lobster and crab salad she promptly returned it, only to be given a second salad with another piece of cardboard mixed in with the greens.
Article continues below advertisement
She told RadarOnline.com that she was "stunned that it happened a second time but the waiter was very apologetic. No one finished their food, we were done."
Their meal was comped and she and her friends were given complimentary glasses of wine but then the waiter brought over what the guest thought was the bill.
"I was shocked," she said. "I couldn't believe he was bringing us a bill, but it turned out to be a really nice note. And it was written on cardboard!"
She shared the noted exclusively with RadarOnline.com that read: "Thank you for being so understanding. Have a wonderful day stay beautiful," and is signed by the waiter, whose name we have blurred out. Here is a photo of the cardboard in the salad: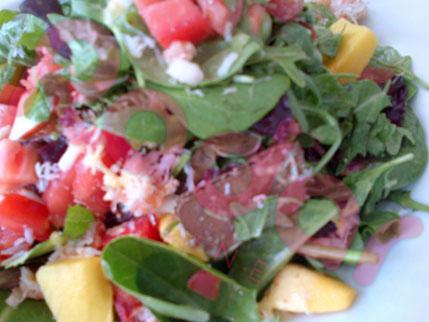 Article continues below advertisement
Villa Blanca had 10 violations on their last Los Angeles County Health Department inspection that was conducted on 2/26/2013 according to their website.
The violations include disrepair, non-food contact surfaces – not clean (minor) and wiping cloths – not clean/inadequate sanitizer/storage. The restaurant has a 90 rating which is an A.
The customer who received the cardboard salads and apology note told RadarOnline.com that she would probably not ever eat at Villa Blanca again.
"I just don't know what I'll find in my food so I don't think I'll be going back there any time soon," she said. Below is the note from the waiter: