Exclusive
Lisa Vanderpump's Restaurant Villa Blanca Under Fire: Customer Says She Had Cardboard In Her Salad TWICE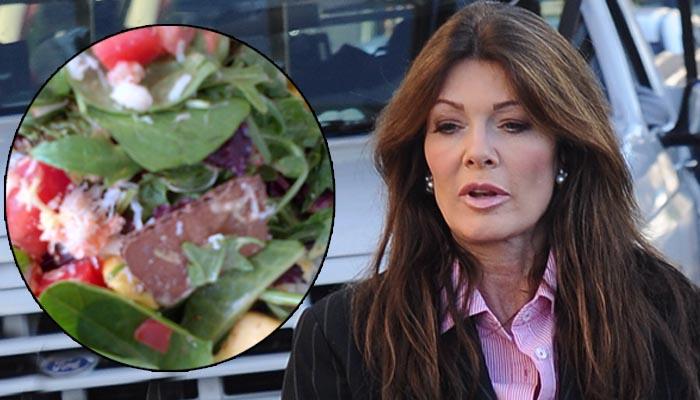 Article continues below advertisement
Villa Blanca had 10 violations on their last Los Angeles County Health Department inspection that was conducted on 2/26/2013 according to their website.
The violations include disrepair, non-food contact surfaces – not clean (minor) and wiping cloths – not clean/inadequate sanitizer/storage. The restaurant has a 90 rating which is an A.
"I ordered a salad and noticed after a few bites that there was a piece of cardboard buried in the salad, covered with dressing," the customer told RadarOnline.com.
"I immediately told the waiter who took the dish and promptly returned the salad to the kitchen. When they brought the second salad out I was completely shocked when I started to eat it and found ANOTHER piece of cardboard in the second salad!"
RadarOnline.com has an exclusive photo the customer says is their Villa Blanca lobster and crab salad with the piece of cardboard cover with dressing mixed into the salad taken on Friday, May 24 during their lunch.
"I tried to be understanding about the first piece of cardboard," she said. "But when the second one came out and had another piece of cardboard in it I was done. My two other guests and I did not finish our meals, we were disgusted."
The diner told RadarOnline.com that the restaurant did comp their entire meal and even gave them complimentary glasses of wine.
The diner also told RadarOnline.com that while Lisa's husband Ken Todd was in the restaurant he did not come over to the table to speak with them or apologize.