Exclusive
Giuliana Rancic 'Doesn't Know Who's Worthy' In Hollywood Of Dating Her 'Fashion Police' Co-Star Kelly Osbourne, But Says It's Not Justin Bieber!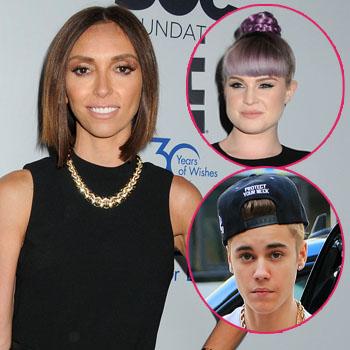 Article continues below advertisement
RadarOnline.com sat down with Rancic on March 5 at the Crystal Light Liquid #tinywin event at the SLS Hotel in Beverly Hills and she revealed there's absolutely no romance between Osbourne and Bieber.
"Kelly Instagrammed pictures of them together, but that's it," Rancic said. "But she said he was super sweet when she met him."
And as everyone knows, Bieber has been making headlines recently for all the wrong reasons.
"I hope he figures it out," Rancic told RadarOnline.com.
"This industry's a tough industry, so I just hope that he does get back on track. I really do. He seems like a good kid."
So who should Osbourne date?
"I honestly wish I could think of someone in Hollywood right now, but I don't know. I don't know who's worthy of being next to Kelly," Bill Rancic's wife said.
"Kelly's one of the greatest people I've ever met. She is so much fun. I'm just smiling and laughing thinking about her. She's just such a fun, great, warm, big heart, amazing girl. Honestly, it would take a really incredible guy."
At the time of the split with Mosshart, Osbourne said it was "a mutual decision" and told E!, "There is no dramatic story — I wish there was so there was something to tell people, but no, it just happens in life."
To catch more of Rancic, check out her new season of Giuliana and Bill, premiering April 1 on E!