U.K. Fans Of Dog The Bounty Hunter Mobilize To Reverse Ban On Once-Convicted Reality Star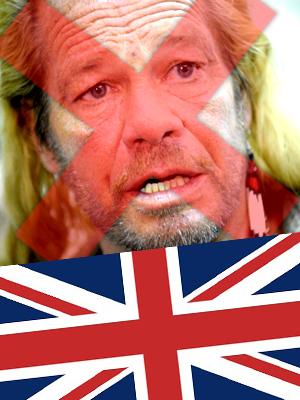 Rabid English fans of reality TV tough guy Duane "Dog the Bounty Hunter" Chapman, clamoring for the long-haired bad guy-catcher to pay a visit across the pond, have mobilized for the Bring Dog to Britain campaign in a bid to convince the British government to reverse its' ban on letting the once-incarcerated TV star into the country.
"We want to show the government that this type of discrimination is not necessary in the 21st century," the group said. "By his own admission, he had done wrong.
Article continues below advertisement
"But surely a life devoted to fighting crime is enough to show our leaders that he deserves the right to enter our country?"
Chapman said the 1976 infraction that's keeping him out -- described in a police report as "minor," and a case where Chapman was caught "at the wrong time with the wrong people" -- is "something that follows you the rest of your life, no matter who you become or who you are.
"I'm not proud of it."
Said his wife Beth: "For over 30 years he's lived with the X on his back -- society just doesn't let it go."
The group added in an open letter: "We want this visa case to be looked at in more detail – why should a 35 year old conviction stop someone from entering a country?
"If they have had no convictions for a period of 35 years, and have proven that they've turned their life around, then what right is it for a desk clerk with a degree and a suit to deny them entry?"
Chapman said if allowed into the U.K., he hopes to speak with legislators in a bid to reduce crime there, and help citizens with safety measures such as self-defense and organizing neighborhood watch groups.
To view a petition in Chapman's support, click here; the movement also has presences on Twitter and Facebook.