Exclusive
David Arquette Warns Courteney Cox's New Boyfriend Johnny McDaid -- Don't Even Think About Looking At Another Woman!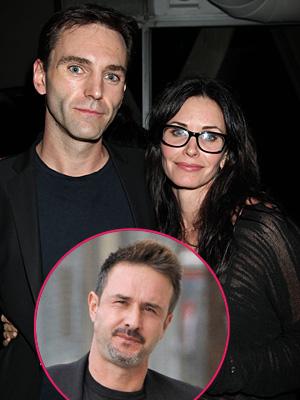 David Arquette has warned ex-wife Courteney Cox's new boyfriend Johnny McDaid to "never ever even look remotely at another woman" unless he wants major problems at home with the Cougartown star, RadarOnline.com has learned.
"David approached Johnny and warned him to avoid making Courteney jealous at all costs," a source dished.
Cox, 49, appears to be getting serious with musician McDaid, 37, as they were recently spotted vacationing together in Italy with Coco, 9, Cox's daughter from her marriage to Arquette.
Article continues below advertisement
And Arquette wants to make sure their relationship goes smoothly for his daughter's sake!
"When David and Courteney got married in 1999, she insisted on a private agreement that David would never take a role that included a kissing scene. At the time, David was looking at parts that were more comedic in nature anyway, so this wasn't a big deal when they agreed to it -- but he's convinced it ruined his chances to be a leading man, forcing him to turn down roles -- for a full decade -- that had even a whiff of romance to them," the source added.
"He told Johnny about the deal and warned him to avoid other women and not even be pictured with a female fan if he's on tour."
Cox and Arquette finalized their divorce last year and the source noted, "It's probably David's sour grapes again, but everyone says it's a good sign he's reaching out to Johnny, if only for Coco's sake."
As RadarOnline.com has reported, the Scream actor, 42, is expecting a son with his girlfriend Christina McLarty.
And Cox has loyally said she's happy for her ex!
"When you love someone, you want them to be happy, even if it's not with you," she told More magazine.