They're Not Buying It, That's The Problem! Dallas Buyers Club Producers Sue Those Pirating Oscar-Winning Movie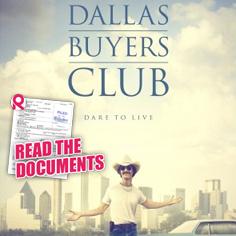 The Dallas Buyers Club has already struck gold for its' Academy Award-winning stars, Matthew McConaughey and Jared Leto; now, producers are asking for their fair share.
In a federal lawsuit filed in Texas, where the critically-acclaimed movie was based in, producers are asking for damages and lawyers' fees for the yet-to-be-named defendants they say illegally uploaded their film online, killing its' profits.
Article continues below advertisement
In court docs, producers say that the pirates, who exchanges copies of the film via formats such as BitTorrent protocol or torrents, are "stealing copyrighted material from many Internet Service Providers ("ISPs") in numerous jurisdictions."
They went on to claim that the film's reputation could be theoretically damaged by the exponentially eroded quality with each copy.
"Each time a Defendant unlawfully distributes a free copy of Plaintiff's copyrighted Motion Picture to others over the Internet," the producers said, "each person who copies the Motion Picture then distributes the unlawful copy to others without any significant degradation in sound and picture quality.