Revealed: Cate Blanchett's Oscar Outfit Was The Most EXPENSIVE On The Carpet — At $18.1M!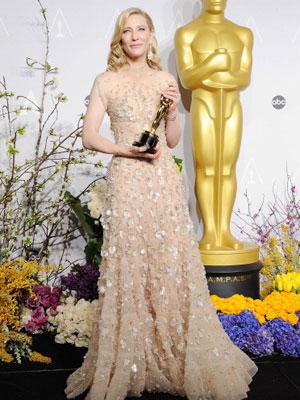 Cate Blanchett was stunning in her golden gown and glittering jewels at the Academy Awards when she took home theOscar for Best Actress, but she also accomplished another major feat that night – wearing the most expensive outfit out of all the other A-listers.
Blanchett, 44, was the toast of Tinseltown after winning the award for  her role in Woody Allen's Blue Jasmine, but her gorgeous Armani Privé  gold and flower dress and Chopard jewels are how Australian Vogue declared her the most expensively dressed.
Article continues below advertisement
The gown she wore was valued at an estimated $100,000, but it was the jewels worth a stunning $18 million that put her at the top of the list.
They included earrings with 62 opals, a total of 33 carats, a brown diamond bracelet and a pear shaped diamond ring.