Exclusive
Plan C! Brad Pitt Plots To Do Big Screen Comedy With Jennifer Aniston's Friend Judd Apatow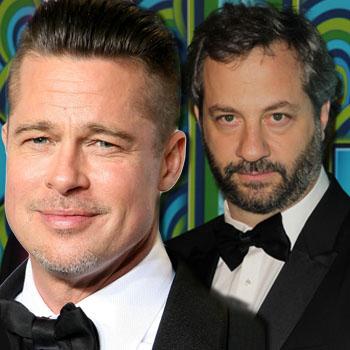 Oscar winning Plan B producer Brad Pitt now has a Plan C--he wants to star in a comedy!
After acting in and producing the Academy Award best picture 12 Years A Slave through his Plan B Entertainment company, Pitt is poised to surprise his fans by doing something much lighter, RadarOnline.com has learned.
And that means cozying up to Hollywood comedy king Judd Apatow, the producer/director who is a close friend of Pitt's ex-wife, Jennifer Aniston.
Article continues below advertisement
"Brad has avoided doing comedies for several years but that's going to change soon," a source said. "He's been making moves to butter up Judd, someone he's known for more than 15 years."
But the stumbling block is that Apatow, the mastermind behind such comedy hits as Knocked Up and Superbad, "firmly sided with 'Team Aniston' during their divorce," the source told Radar.
Still, "Brad wants Judd to write a new comedy with him in mind to re-introduce audiences to his comedic side."
Not long ago, Pitt, 50, made viewers laugh in the comic caper Ocean's films and the Coen Brothers' offbeat comedy, Burn After Reading.
Pitt has considered Steve Conrad's script Chad Schmidt, a funny Hollywood tale about a young actor who bears a resemblance to Brad Pitt, "but he'd much rather work on an original Apatow project that's been tailor-made for him," the source said.
"This all puts Judd in a tricky spot because of his longtime friend Jen, but the divorce was a long time ago and Judd is very interested in writing and directing Brad. He is going to do his best to make something work in the coming months."