Exclusive
Warrant Out For 'Teen Mom' Jenelle Evans' Husband: Courtland Rogers Allegedly Stole Pal's Jewelry & Pawned It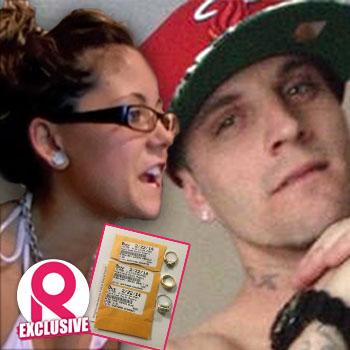 Jenelle Evans' estranged husband Courtland Rogers has found himself in trouble yet again with the law.
RadarOnline.com has exclusively learned the admitted heroin addict stole jewelry from a friend he was crashing with and after Katie McMillan filed a theft report with the Wrightsville Beach Police Department in North Carolina, her family rings were found at a local pawn shop and quickly connected to Rogers — who used his ID to pawn the items.
Article continues below advertisement
Detective Matthew Monroe is the lead on the case and confirmed to RadarOnline.com that there is a warrant for Rogers' arrest in connection with the theft.
Jenelle Evans: 18 Secrets, Scandals & Lies From The Controversial 'Teen Mom' Star's Troubled Life
"I was trying to help him get into a treatment program and had even talked with a doctor. He was telling me he wanted to get sober and get away from drugs. I figured out he didn't want any help after a few days. In the last text he sent me, he said he was going to pick up his money. That's when he left my house and never came back. I now know he meant going to pawn my stuff," McMillan exclusively told RadarOnline.com.
"He knew I was going out of town the next day and he couldn't stay at my house. I think he was hoping I wouldn't notice my stuff was gone before I left. I definitely noticed it was gone shortly after. It was the stuff I considered sentimental. Two of the rings he did take were actually the most sentimental things I own. They are both rings from each of my grandmothers."
McMillan tells RadarOnline.com she immediately contacted the police and found out he allegedly has a history of pawning things.
Article continues below advertisement
EXCLUSIVE TEXT MESSAGES: Jenelle Evans Admits To Smoking Weed While Pregnant
"I contacted the police and never said anything to him. I found out he had a history with pawning things and his mother had even gone to pawn shops to tell them not to let him pawn anything," she claims.
"I thought considering that, there was a chance he couldn't pawn it and still had it on him. I wanted the police to have the chance to get it back. If he thought I knew it was gone he might get rid of it somewhere and I'd never get it back."
RadarOnline.com obtained police evidence photos of the jewelry recovered at a local pawn shop.
"I can't believe he did that to me. I was letting him stay in my house, trying to help him get help and even fed him and bought him groceries," McMillan told RadarOnline.com.
Rogers, 28, could be charged with felony larceny in North Carolina if the value of McMillan's rings exceeded $1,000.
"He told me if he got charged with one more felony, he would get an automatic 20 years in prison and be considered a 'habitual felon,'" McMillan said.
Earlier this month Evans' husband gave RadarOnline.com shocking exclusive video of himself looking straight into his cell phone camera as he injects himself with heroin.
Do you think Rogers' drug addiction has something to do with the alleged theft? Sound off below…