What Fraud? Teresa Giudice's Legal Team Demands Details Of Government Allegations Against Her In Federal Case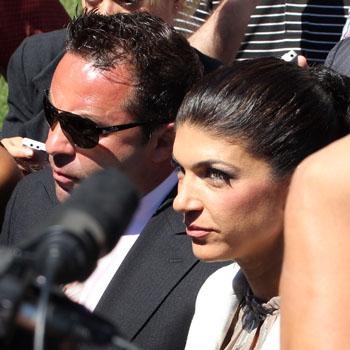 As Teresa Giudice's attorneys prepare for her upcoming federal fraud case, they have filed a pretrial motion demanding the government outline the basis of the allegations in the 41-count indictment against her, RadarOnline.com is exclusively reporting.
In the court docs, obtained exclusively by RadarOnline.com, the Real Housewives of New Jersey's lawyers state, "The indictment repeatedly uses vague and amorphous words and phrases, but fails to provide additional detail to allow Teresa to defend herself against these allegations.
Article continues below advertisement
"In fact, the Defense has accessed and reviewed the Government's discovery in the U.S. Attorney's Office on many occasions, and still cannot determine what the basis is for many of the allegations set forth in the Indictment. Accordingly, the Indictment is woefully deficient."
The mother of four formally responds to prosecutors' reluctance to allow her trial to be separate from husband Joe's.
"The defendant moved to sever the trial from her husband, asserting that she wished to testify on her own behalf at trial, but that her testimony would inculpate her husband," the docs state.
The couple's request for a separate trial was based on the notion of marital privilege, which says that a spouse can opt not to offer testimony incriminating their spouse. If she and Joe had separate trials, the couple claimed, they would be better able to defend themselves. But according to the memorandum, prosecutors insist that opting to testify at all automatically disavows the Real Housewives of New Jersey stars of that right.
Article continues below advertisement
Prosecutors pointed out to the court in their opposition papers for the Giudices trial be held separately because Joe hasn't exactly been trustworthy in the past. "He has provided false testimony under oath on multiple occasions," one section reads. And there's no guarantee he would testify at all, since his lawyers has previously said he wouldn't.
For all these reasons, the government says, "each of Defendants' pretrial motions must be denied."
In addition, prosecutors asked the judge to force Teresa and Joe's lawyers to hand over "photographs, books, papers, documents, data, photographs, tangible objects" relating to the case, which they have not done yet.
A hearing date has been scheduled for April 9.