Exclusive
Book 'Em! Stephen Baldwin Ensured In Nasty Legal Battle With Former Publisher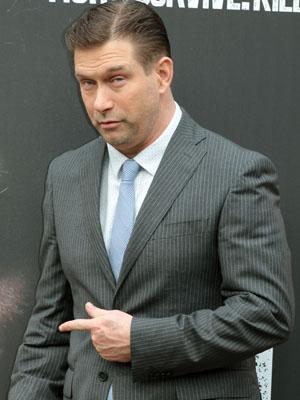 Just as Alec Baldwin announces he's retiring from public life, his brother Stephen is back in the headlines for all the wrong reasons. RadarOnline.com has exclusively learned that Baldwin is entangled in a bitter lawsuit with his former publisher after refusing to return an advance on a book he never finished -- and the fight's getting nasty.
Hachette Book Group sued Baldwin last year, claiming he was paid a $110,000 advance for a non-fiction book about "being a sold out, hardcore, nothing-held-back Jesus freak," but the manuscript never materialized. It was intended to be the second half of a two-book deal he signed in March 2007. The first book, The Death and Life of Gabriel Phillips was published as scheduled in 2008. But the second book was not forthcoming.
Article continues below advertisement
According to court documents obtained by RadarOnline.com, the publishers allowed Baldwin ample time to complete the work, extending the original January 1, 2008, deadline to September 1, 2008, and then April 1, 2010. But Baldwin "failed to deliver the work by the delivery date as required under the agreement," the publishers claim, and as such, they want to terminate his contract and get their cash back.
MORE ON:
Celebrity Justice
But not only does Baldwin want to keep that money, he claims he's still owed $87,000, and he wants the publishers to pay up.
In a response to Hachette's lawsuit filed on February 18, Baldwin insists that Hachette "proceeded in bad faith and in violation of the implied covenant of good faith and fair dealing."
Specifically, Baldwin claims, Hachette "breached its contractual obligations … by, among other things, and without limitation failing or refusing to provide proper and required timely accountings, including a statement of account regarding sales and net licensing revenues for the first book, and by failing or refusing to properly and/or timely remit any sums due and owing."
Baldwin also claims that the company failed to sufficiently market his first book, thereby invalidating the contract, he claims.
As such, the court documents state, Baldwin "has been damaged in the sum of at least $87,500, representing the advance still owed on Book 2, plus any and all other damages in the form of royalties and other payments due and owing."
It's just the latest legal trouble for Baldwin, who was also recently slapped with a foreclosure lawsuit on his million-dollar New York estate, as RadarOnline.com has reported.