Exclusive
From The Manor Booted: Stephen Baldwin Slapped With Foreclosure Lawsuit On Million-Dollar New York Estate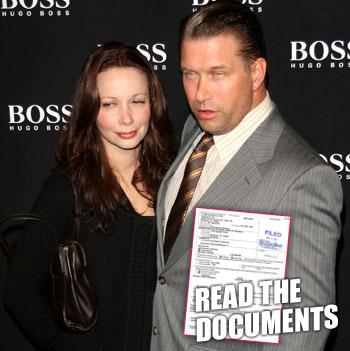 Stephen Baldwin and his wife Kennya have been slapped with a foreclosure lawsuit on their New York estate, RadarOnline.com has exclusively learned.
Deutsche Bank filed the paperwork against the Baldwins on Oct. 29, last year, in a New York court claiming the couple has failed to make payments on a nearly one million dollar loan to purchase the Upper Grandview home.
"On or about March 27, 2000, defendant (s) Stephen Baldwin and Kennya Baldwin borrowed the sum of $812,500.00 from National City Mortgage Co., by a certain note dated the same date, whereunder said loan was repayable as follows:" the court docs read.
Article continues below advertisement
"The sum of $6,906.17 on May 1, 2000, and a like sum of exact amount each and every month thereafter until April 1, 2030."
It was noted in the loan agreement that if Baldwin defaulted on a payment, the bank could sell the home to get their money.
According to the lawsuit, Baldwin stopped making payments on the 1.4 acre home on March 1, 2011 — and hasn't made one since!
The court documents state the Baldwins still owe $781,991.02 to the bank and the bank is asking the court to allow them to foreclose on the home and have the actor pay the remaining balance they don't make back from the auction.
Baldwin has had trouble with this 4-bedroom, 4-bathroom home in the past.
In 2009 he almost lost the home to the bank but worked out a last minute deal to save it.
Just three years later Baldwin, 47, was arrested on felony charges for failing to pay his taxes. He pled guilty to the charges and avoided jail time by agreeing to cough up $400,000 owed in back taxes.