Accused Drug Dealer In Philip Seymour Hoffman Death Says He Could Have 'Saved' Actor, Encouraged His Sobriety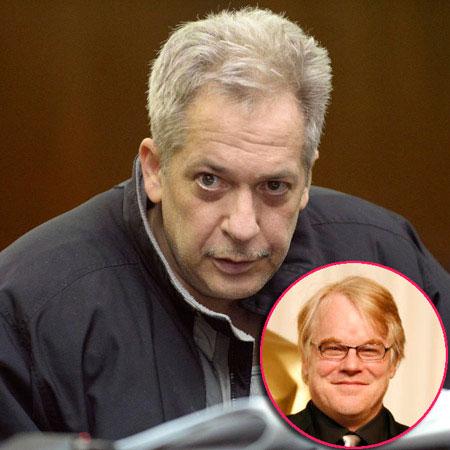 Philip Seymour Hoffman's alleged drug dealer believes he could have "saved" him.
The Capote actor was found dead from an apparent heroin overdose Feb. 2 and Robert Vineberg -- who has been charged with felony drug possession and was one of three suspected dealers charged in the wake of the 46-year-old star's death -- insisted he would have encouraged him to seek help if they had been together before his death.
Article continues below advertisement
The jazz musician, who claims he last saw the actor in person in October, said Hoffman "was my friend -- I could've saved him.
"If I knew he was in town, I would've said, 'Hey, let's make an AA meeting.' If I was with him, it wouldn't have happened. Not under my guard."
Vineberg's last contact with The Hunger Games actor came in December via email and text message, and he said they traded messages about staying sober.
In an interview from prison, he told the New York Post Hoffman "left me a voicemail in December saying, 'I'm clean'.
"We'd text back and forth, 'Oh, I got one day on you!' 'No I've got one day on you.'"
The 57-year-old saxophonist said he was "devastated" by Philip's death and sent his sympathy to the actor's family -- children Cooper, 10, Tallulah, 7, and Willa, 5, and their mother, the actor's longtime love Mimi O'Donnell.
MORE ON:
philip Seymour Hoffman
Article continues below advertisement
"When we got together, we talked about books," he said. "And art. He was a normal guy. You wouldn't know he was an Oscar winner. He loved his kids. I offer my condolences to his family."
When asked if he had ever supplied drugs to the actor, he declined to answer.
His lawyer maintained Vineberg's innocence in connection with Philip's death.
The lawyer, Ed Kratt, said: "All of the evidence adduced to date has indicated that Robert did not provide to Mr. Hoffman the narcotics that caused his unfortunate death.
"The evidence also shows that Robert and Mr. Hoffman were true friends who had bonded over and struggled with the dangerous use of narcotic drugs."