Dagger To The Heart! Mia Farrow's Bitter Valentine's Day Card To Woody Allen After Discovering Affair With Adopted Daughter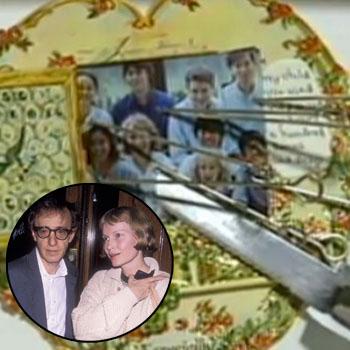 In a family divided by adultery and allegations of sexual abuse, Mia Farrow made it clear to her beau of 12 years, Woody Allen, how she felt about him in a 1992 Valentine's Day card stabbed with pins and knives.
Their daughter Dylan Farrow recently came forward -- 24 years after the card was sent -- with an open letter in which she detailed Allen's alleged sexual abuse to her -- and even name dropped celebs like Alec Baldwin, Cate Blanchett, Scarlett Johansson and Diane Keaton for supporting Allen's career.
Article continues below advertisement
However, at the time of the original allegations when Dylan was 7-years-old, Allen was exonerated.
Farrow sent the Valentine's Day card to Allen just one month after she discovered Allen was having an affair with their 20-year-old adopted daughter, Soon-Yi, who he would later go on to marry five years later.
The heart-shaped card features a photo of their large family with pins stabbed through the hearts of all the children and a knife through her chest -- with a photo of Soon-Yi taped to it.
According to Jezebel, one side of the card had words scribbled on it like, "betrayal" and "loss," while the other side has a poem that reads:
Once my heart was one and it was yours to keep
My child you used and pierced my heart a hundred times and deep
Hollywood Divorce Lawyers Tell All: Prostitutes, Cross Dressing, Drugs & More Shocking Split Secrets
Dylan is standing firm in her stance that Allen sexually abused her saying on Wednesday, "When I came forward with my story Mia was hoping against hope that I had made it up. In one of the most heartbreaking conversations I have ever had, she sat me down and asked me if I was telling the truth. She said that Dad said he didn't do anything. And I said, 'He's lying.'"
Allen showed the bitter Valentine's card in 1992 during an interview with 60 Minutes where he defended himself against the allegations.
"I got scared because that was one of the times I thought, 'My God,' because if you look at the thing it's quite frightening," Allen said of the card at the time.