Mary Tyler Moore's Living Hell: Nine 911 Calls In Seven Months Over Arguments With Husband, Fractured Ribs, Crippling Falls & Worse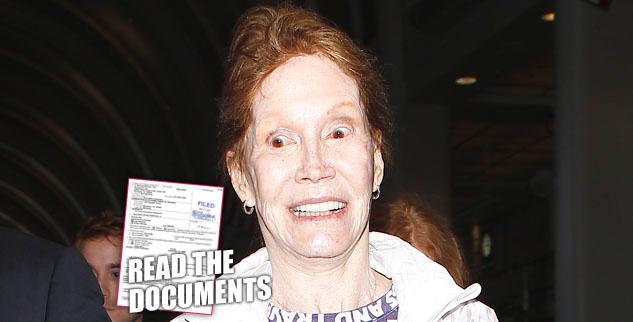 Once, Mary Tyler Moore could turn the world on with her smile. But these days, the 77-year-old is trapped in a much darker reality.
RadarOnline.com has confirmed that the iconic actress called 911 nine times over the past seven months for a range of emergencies at her Greenwich, Conn., home, including "verbal disputes" with her husband, crippling falls and broken bones!
In January alone, cops were called multiple times for incidents involving Moore and her husband, Dr. Robert Levine, 59, as the National ENQUIRER first reported.
Article continues below advertisement
On January 19, the "domestic incident" was classified as "nonviolent," even though Moore claimed Levine was "refusing to leave the house."
Just four days later, however, the cops were called over a "verbal dispute" yet again and they observed Levine make a "veiled threat as he laft sic the house and drove away in his car."
DOCUMENTS: Read The Police Reports Obtained Exclusively By The National ENQUIRER
According to a sensational report in the National ENQUIRER, who first uncovered the disturbing calls, friends are concerned about the former TV star's living conditions.
"This is the time in her life when Mary should be enjoying her final days in peace with a loving partner," one source told the magazine.
"But Robert seems to have washed his hands of Mary."
"Robert simply got tired of being Mary's nursemaid," the source continued. "They've had blowout fights over whether she should live in an assisted care facility, but Mary refuses to leave her house."
And if the 911 calls are any indication, things are only getting worse.
Emergency responder call logs show police have raced to Moore's home over frightening falls that left her with a broken collarbone, fractured ribs, a damaged shoulder, and contusions on her face. And meanwhile, she's still battling diabetes.
Said a friend, "We're praying for her."
For more on Moore's concerning physical problems and crumbling marriage, pick up the latest issue of the ENQUIRER, on newsstands Thursday!