Exclusive
Whitney, Mark II: Mariah Carey & Randy Jackson Plan To Make Houston's Daughter Bobbi Kristina A Pop Star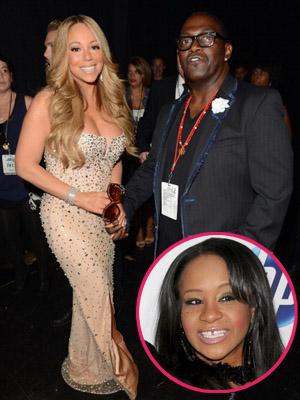 Whitney Houston's daughter Bobbi Kristina Brown is being prepped for music stardom--just two years after her mother's tragic death, RadarOnline.com can exclusively reveal.
And Brown is being backed by a pair of famous advisers, as Mariah Carey and former American Idol judge Randy Jackson have quietly decided to help pilot her music career, a source said.
"Mariah and Randy were close friends of Whitney's and were heartbroken after she died suddenly in 2012. They kept in touch.
Article continues below advertisement
"Now Randy has decided he wants to make a full court press to help Bobbi Kristina become a star-- and Mariah told him she wanted in, too!" the source close to music producer Jackson told Radar.
"Mariah would love to step in and provide mentoring to BK because she and Randy have been so close and even worked together on last season's American Idol. They have years of music experience between them and will share all their knowledge with Bobbi Kristina.
"Randy wants to move quickly and is presenting a plan for the potential star that gets her on the pop charts in under 12 months."
But although Bobbi Kristina, who is just 20 and recently married Nick Gordon, appears to have inherited her parents' music talent, the source added: "For her part, Bobbi Kristina is being extremely careful about her first steps into the pop singing world."
And no wonder. Houston struggled with fame, suffering through a troubled marriage to rapper Brown and drug problems. She drowned to death in her hotel bathtub at the Beverly Hilton on Feb. 11, 2012 on the eve of the Grammy Awards. Houston was just 48 years old.
Now, Bobbi Kristina, who had her own emotional breakdown after Houston's death but turned her life around, "wants to be a singing star just like her mom, but she wants to be really careful about how she does it. Bobbi Kristina understands how important first impressions are when you release music."
According to the source, Bobbi Kristina is interested in also writing her own music as well as singing, but "hasn't had a lot of formal training in that department, despite her parents having had writing credits on many major hits."