Exclusive
Khloé Kardashian Has 'No Plans' To Get Back Together With Lamar Odom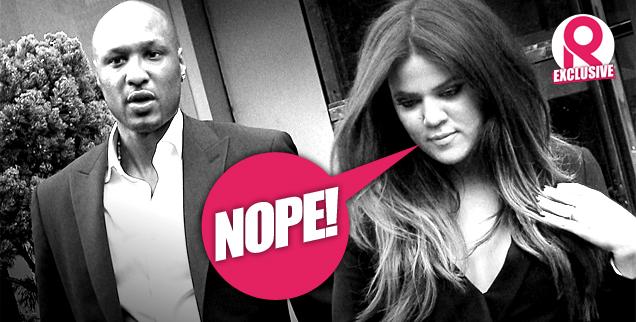 Khloe Kardashian is privately scoffing at estranged husband Lamar Odom's declaration that he "hopes" their troubled divorce does not proceed, telling pals it most certainly will.
"That's my wife, I love my wife, she'll always be my wife no matter what," Odom — who recently signed a one year contract with the Spanish team Laboral Kutxa — said in an recent interview.
He added only "time will tell" if the pair — married since 2009 — will actually do get divorced.
Article continues below advertisement
They Really Did Say It! 50 Outrageous Kardashian Quotes
However, a source close to Khloé, 29, told RadarOnline.com that Odom, 34, is living in a parallel universe!
"She has absolutely no plans to get back together with Lamar," said the insider.
"She has already sold their house and is just starting live her own life. The nights of staying up late at night wondering where Lamar was and if he would be coming home, are over."
The family insider added that Khloé "will always" love her NBA ex, but said "the relationship had run it's course. She wishes he would file the response to their divorce proceedings so they can both move on in a healthy way."
The Keeping Up with the Kardashians star filed for divorce in December and swiftly moved out of the home she shared with the former Los Angeles Lakers sixth man.
Even though "Lamar still wears his wedding ring," Khloé's has had hers off for months.
"She has no plans to put it back on," the source said.