Exclusive
Jermaine Dupri Slapped With Civil Lawsuit By Ex-Business Partner, Seeking $1 Million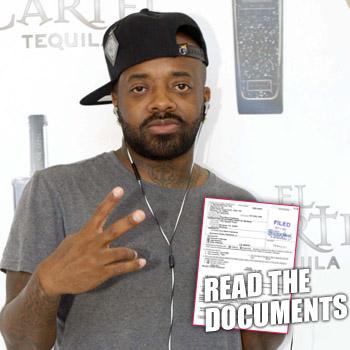 Jermaine Dupri's former business partner filed a civil lawsuit against him on Jan. 13 seeking $1 million in damages, and RadarOnline.com has all the exclusive details.
According to the legal documents filed in a Georgia courthouse, Dupri's former Dieniahmar Music LLC partner Eddie Weathers claims they supposed to split profits 50/50 but was purposely kept out of a merger deal that cost him hundreds of thousands in royalties.
Article continues below advertisement
Weathers says he and Dupri — real name Jermaine Mauldin — created the company together in 2005 and "the name of the company was derived from the birth names of Weathers' and Mauldin's children Eddie Jr., Shaniah and Kamar."
But in 2006 Dupri entered into a co-publishing deal with EMI Music and Weathers says he told them "he was the sole owner in Dieniahmar when in fact he was not."
The court papers state that all royalties paid by EMI went directly to Dupri and his business manager between the years of 2006 and 2013.
"On April 11, 2008, Weathers received a check from Mauldin's new business manager…in the amount of $275,752.97 which represented two years of back pay royalties due Weathers," the civil suit states.
Weathers claims that when Dupri hired a new business manager in 2011, Willie Carter, his payments ceased, or came late, or were just a fraction of what he was owed.
And when Dupri told Weathers he planned to sell Dieniahmar Music to EMI in April 2013, he claims he was promised a $238,000 cut — which he never got.
Instead, Weathers claims he received a $10,000 wire from Dupri.
"To date, Dieniahmar, Mauldin, and Carter have failed to pay Weathers the $250,000 and all other monies due and owed to Weathers," the court docs state.
Weathers is seeking $1 million.